Google OnHub
Connect with the Smart Router
Designed to handle your wireless traffic, Google OnHub uses innovative smart technology to improve connectivity to all of your Wi-Fi devices. Now it's easier than ever to stream, share files and get things done.
Helps Eliminate Dead Zones
Includes 13 high-powered antennas that extend coverage over large areas.
Auto Optimization
Smart software optimizes speed & bandwidth by scanning environment and switching channels as needed.
Mobile App
Manage OnHub settings from the Google On app on your smartphone or tablet.
Prioritize a Device
Supports up to 100 devices at once and lets you prioritize bandwidth to a specific device.
Simple & Secure
Easy to use and maintain, with automatic security upgrades and Google verification for all software.
Selective Sharing
Create a separate guest network to protect sensitive information; share wireless devices across networks as needed.
Frontier® & Google OnHub
Giving you faster, better wireless together
Frontier and Google OnHub are a match made in technological heaven. With the reliability of the Frontier network and the advanced features of the Google OnHub wireless router, you can expect a clearer, more consistent signal. To start using the OnHub router for your business, call 1-877-204-1672 today and schedule your Frontier installation.
OnHub at a Glance
See how fast & flexible your wireless can be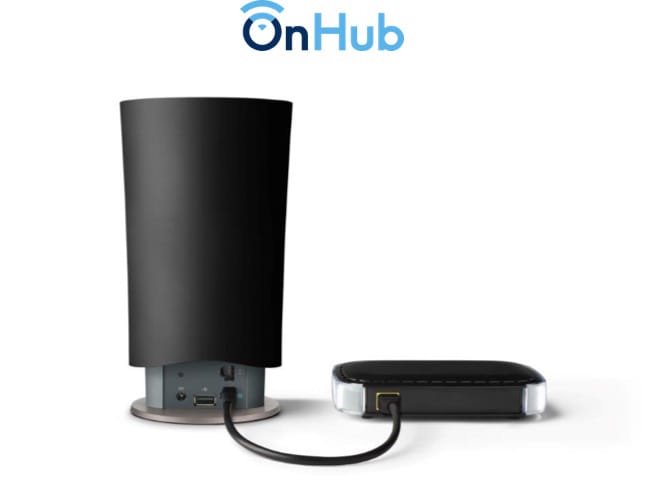 Must subscribe to new business Internet service with two-year agreement. OnHub router charge of $7.50/mo. applies for initial 2-yr. term. Early termination fee equal to the remaining balance of the agreement applies. Also available to existing broadband customers at standard pricing Other terms and conditions apply. Frontier reserves the right to withdraw this offer at any time.