Frontier AnyWare — Your Communication and Collaboration Solution in the Cloud
Unified communications designed to improve your business collaboration—starting at $19.99
Services subject to availability.
How Can Frontier AnyWare Reduce Your Worries about Business Communications?
Frontier AnyWare is our reliable, affordable communication solution for businesses with 5 to 500 employees. It is hosted in the Frontier Cloud and powered by innovative technology from Mitel®. With enterprise grade collaboration features, Frontier AnyWare offers the flexibility and scalability to fit the way your business works.
You have enough things to worry about as a business leader. Your communications platform need not be one of those.
Learn more about Frontier AnyWare additional features
How Does Frontier AnyWare Incorporate Unified Communications?
Unified communications is an evolving technology designed to optimize processes and increase productivity by managing flows, reducing latency, and eliminating dependency on devices. Frontier AnyWare uses integrated collaboration tools such as voice, sharing, and conferencing intended to be as flexible as your business.
Consistent user experience across various media types
Communicate seamlessly across multiple devices
24/7/365 customer service and tech support
Is Frontier AnyWare a Good Match for Your Business?
Frontier AnyWare is ideal for a wide variety of organizations:
Insurance agencies
Real estate agencies
Credit unions
Law firms
Accounting firms
Engineering firms
Medical/dental offices
Contractors/construction trades
Car dealerships
Schools
Warehousing/distribution
Trucking/transportation
Other multi-site businesses
Which Frontier AnyWare Package is Right for Your Company?
Don't worry about locking into a particular type of user license. You can mix and match to fit the way your business works.
Essential
$

19

.

99
Essential User Features
Best suited for stationary roles, including administrative, and clerical workers.
Good performance at an affordable price
VM to email integration
Single device support
Premier
$24.99
per user /mo
See offer details
Premier User Features
Best suited for workers on the move in customer service, sales, tech support, and managerial roles.
Better performance with expanded functionality
Connect up to 3 devices simultaneously
Outlook integration
Chat and presence
Elite
$29.99
per user /mo
See offer details
Elite User Features
Best suited for power users on the go, especially those in revenue-generating and leadership roles
Best performance and value
Connect up to 4 devices simultaneously
Outlook integration
MiTeam collaboration streaming app
Mobile client
Mobile softphone
How Can You Improve Your Results with Frontier AnyWare?
Frontier AnyWare runs best on Mitel 6900 series IP Phones. Various models available with advanced performance and features suited to the need of any type of user. Get your preferred hardware via purchase, simple lease, lease-purchase or rental.
Don't worry about being tied to your desk—or missing calls while you're on the go. Frontier AnyWare seamlessly delivers your calls to your mobile phone and pushes any VMs to your preferred email.
What Can Frontier AnyWare Help Your Business Achieve?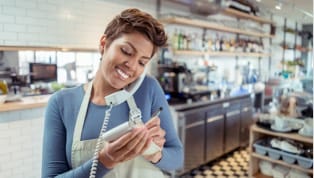 Scale your Communications to Your Needs
You can migrate your voice network to the cloud instead of investing in equipment that will be obsolete in five to seven years. This allows your phone system to grow with your business.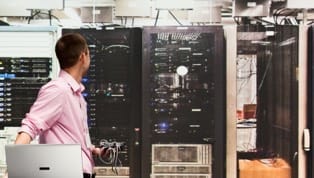 Focus on Customers With Access to 24/7 Vendor Support
Frontier AnyWare is hosted in Frontier's geo-redundant data centers and is managed by experienced unified communications engineers. We're here to support your business so you can focus on helping your customers.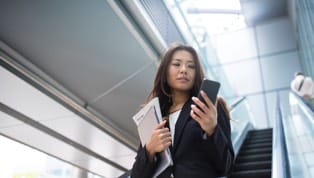 Improve Your Phone System's Flexibility
Improve communication capabilities for your company with access to unified communications via desk, web, and mobile. Mobile twinning allows you to move calls seamlessly between your mobile and desk phones.
Why Choose Frontier?
At Frontier Business, we really take the time to get to know our customers. We focus on your business needs, so our solutions solve real business problems. Our goal, always, is to deliver solutions that are tailored specifically to you. That's what we call Custom(er) Fit™.
Related Products
Additional phone services for large businesses
Centrex
Advanced phone system for large organizations
No up-front investment required–Frontier bears the cost of equipment
24/7/365 support & management from Frontier
ISDN PRI
Scalable, affordable phone & data services
Cutting-edge infrastructure & technology
24/7/365 support & monitoring
Long-Distance
Competitive rates for landline service
Domestic, international, & toll-free plans
Includes premium features
Resource Center
Advice & information from industry experts
Podcasts
Keep your tech strategy fresh with insights from "Gain Your Edge," a twice-monthly podcast on all things IT.
Listen now
White Papers
Learn about new developments and technologies that can help you succeed in your industry.
Read now