Business Internet Service by Frontier®
Get affordable and reliable business internet backed by 24/7 tech support
Uh Oh!
Looks like we don't offer internet service in the 20149 area at the moment. Perhaps you're moving to, or opening a new location? Find services in another area below.
What Business Internet Speed Do I Need?
Business internet connection speeds vary among service providers. Frontier Business offers high-speed internet plans with speeds ranging from 5 Mbps to 20 Mbps depending on the location of your business. You'll need increased speeds if your office has several devices connected at the same time. A faster business internet speed is also necessary for high-bandwidth activities.
Modern business tools like cloud-backup, remote access, and hosted email require more speed than ever to operate without impacting your other day-to-day business activities.
High-speed internet is typically transmitted over copper business cable lines. Speeds are measured in Mbps, or megabits per second. A bit is ⅛ of a megabyte, which measures file sizes. This means the higher the Mbps, the faster you can upload or download files.
Determine how much speed you need by evaluating the number of simultaneous users and the activities they're doing. For example, you'll require less speed if you have two employees who only use basic email, and more speed if you have ten employees video conferencing. You can also call Frontier for assistance deciding the best option for your business.
Speeds vary by package and location. Please call for availability.
Speeds up to 7 Mbps
Best for frequent email use and file transfers
Use for:
Email
Messaging
Web browsing
Social media
Online banking
Speeds up to 15 Mbps
Best for brick and mortar retail and small offices
Use for:
Online research
Streaming
File sharing
Cloud services
Backup
Speeds up to 20 Mbps
Best for online retailers and small offices
Use for:
Office Wi-Fi
Multiple devices
Ecommerce
Sending large files
VoIP phones
Business Internet Service Features
Highly Reliable Network. Count on a constant high speed internet connection for your small-business internet service.
Dedicated Line. Your dedicated line guarantees stable, high speed internet all day instead of forcing you to compete for cable bandwidth.
24/7 Business-Class Tech Support Included. Get help from a U.S.-based tech agent any time of day. Internet for small business should be easy.
Wireless Networking. Capability that allows you to easily network several computers to one broadband connection safely and securely.
8 Email Accounts Included. 8 Email boxes (1 main - 7 subs); 1TB of storage with Frontier Yahoo Mail; that's 1000 GBs for emails and attachments, and percent of use can be viewed at any time.
Static IPs Available. Static IPs provide the reliability of a constant address-important if your company uses an information server (like email), VPN or VoIP, or hosts websites.
Professional On-Site Installation Available. Schedule a skilled technician to install your services at a time that is convenient for you.
What's the Difference between Upload and Download Speed?
Every internet connection has both upload speed and download speed. Yet, many internet providers offer an asymmetrical connection. If you find your internet is slow with some activities, you may need to increase your upload speed.
Upload speed is used for outgoing data:
Cloud backup
Social media posts
Sending files
Download speed is used for incoming data:
Audio streaming
Video streaming
Software downloads
Both speeds are used for some activities:
Video conferencing
Chat
Digital phone systems
Residential vs Business Internet: Which Is Right for You?
A business high-speed internet connection often comes with benefits you won't receive with residential internet. You will often get access to additional product features like static IPs, dedicated internet, and faster speeds—all of which can improve business security, flexibility, and productivity.
You can also expect service perks such as priority tech support over residential accounts, SLAs (service level agreements), and convenient tools like the MyFrontier App.The app is a simple way to make payments, access your account, and look up line items on your bill like one-time activation fees or monthly state taxes.
Who Should Consider Frontier Business Internet at Home?
Don't lose critical time and money with subpar residential internet. Regardless of industry, you could benefit from reliable business internet service if you work from home:
Digital entrepreneurs
Contractors
eCommerce
Consultants
Insurance agents
Small-business owners
With Frontier, you can customize your home office to your business needs with additional products and services like a phone bundle, security package, or Wi-Fi.
What's the Difference Between Static IP and Dynamic IP?
An internet protocol (IP) address is a unique number given to every device on a network. Protecting data and intellectual property with a static IP is crucial for most businesses.
Static IP
Does not change
Essential if hosting a server
Important if you have a VPN
A static IP from Frontier provides your business a constant address to refer to when forwarding data packets to your computer. It provides extra reliability and privacy—giving you greater peace of mind.
Dynamic IP
Changes periodically
Assigned by the network
Used by most devices
What Is a Dedicated Internet Connection?
Dedicated internet delivers consistent speeds and uptimes because you no longer have to share the bandwidth you pay for with nearby businesses or residential users.
This means your actual speed will be faster because your connection won't slow during peak usage hours. You will also experience less latency and less packet-loss with dedicated business internet service.
Dedicated internet provides additional assurance if your business depends on reliable service availability and a fast connection.
What Are the Benefits of Having a Business Internet Router?
Business-class routers can simplify your day-to-day functions by providing higher security, remote access, and the ability to scale with your growing business.
A consumer router may have small perks like being more cost effective, guest network capabilities, and lightweight VPN support. However, consumer models are typically built for streaming—get a business router if you want improved security features, have remote employees, need to set up advanced VLANs, or run your own server.
Using equipment from your business internet provider is a smart decision because they know the network and can fine-tune your router to ensure the settings and updates are as compatible and efficient as possible. Frontier has a wide variety of equipment options to help you make the right choice.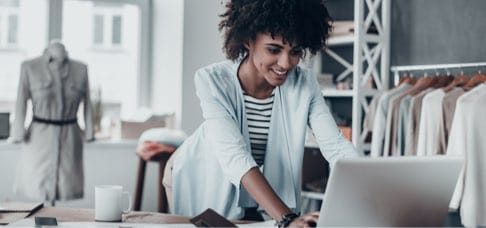 Have questions?
We've got answers. Choosing the best internet plan for your business can be challenging. There's a lot of unfamiliar jargon and several factors to consider. That's why we're here to answer some of the most frequently asked internet service questions.
Find Answers
Ethernet

Complex data networks for a high volume of users. Frontier Ethernet is certified MEF CE 2.0.
Data Private Line

Secure, private small business access to internet with speeds as fast as 45Mbps and no shared connectivity.
IP VPN

Virtual networks that support location-to-location connectivity and protect private data.
Why Choose Frontier?
Because dependable and fast internet service for business should be a given.
Frontier offers a business internet service with reliable uptime, round-the-clock tech support, and other features that allow your business to run smoothly every day.
Bundle Internet & Phone to Get More
Get fast internet speeds plus phone line
Includes voicemail, unlimited nationwide calling and essential calling features
Add additional lines for a great low price
See Packages & Details
Ask About Frontier AnyWare
Frontier's new VoIP solution will host your phone and collaboration tools in the cloud. Call today!
Business Services
Add-ons to complement your internet service
*Best Protection Award by AV-Test. https://www.av-test.org/en/award/2014/best-protection-f-secure/
Cutting Edge Collaboration in Today's Connected World
November 1, 2018
 Not too long ago the term "collaboration" brought to mind images of conference room tables filled with employees with notepads and pens, ready to talk business and brainstorm ideas. Fast forward to now and those tables have been replaced with video screens, apps and a broad range of smart, connected devices, where the limitations […]
Read article
Outsmart Hackers with These 4 Cybersecurity Hacks
October 19, 2018
Cybersecurity is a common problem for all companies—small businesses are no exception. In fact, just under half of small businesses experienced a cyber attack in 2017. Now is the time to start thinking if you don't currently have a plan in place. Fortunately, there are several steps you can take to protect your organization against […]
Read article
Join our mailing list and never miss a deal.
We respect your privacy. Your email will not be shared.