Mitel Unified Communications
Mitel is one of the elite few that are recognized as industry leaders in Corporate Telephony, Unified Communications and UC for Midsize Enterprises - according to the Gartner Group. They are also a world leader in cloud communications for business, with 15 of the global top 20 wireless operators use Mitel mobility solutions. Businesses rely on Mitel to power 2 billion connections every day to collaborate and serve their customers. Frontier® continues to be Mitel's #1 US partner.
Mitel Is Better for You and Your Customers
Legacy phone systems can't meet the needs of a large business on the cutting edge. To keep employees mobile, flexible, and more productive, you need a phone system with modern features like mobile twinning, email access to voicemail, and the ability to customize settings on a dime. These features not only help your employees but also translate into a noticeably smoother experience for callers. Watch this video to find out how.
Frontier offers equipment solutions to fit your business needs
Frontier is your single provider for your telecommunications and IT needs. Since 1980, we have helped businesses maximize their investments with scalable, reliable voice and data solutions that increase efficiencies and control costs. Partnering with leading technology providers like Mitel, we provide specialized customer-premises equipment (CPE) solutions:
Voice & video equipment & applications
Data equipment (routers, servers, storage, LAN/POE switches, security)
Unified communications & collaboration (including video)
Professional services
Wi-Fi hosted & premise equipment
Call center equipment & applications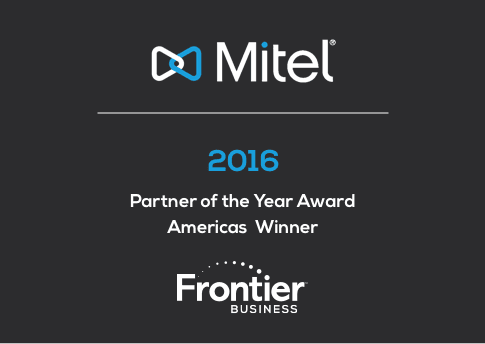 MiCollab

MiVoice

MiCloud

MiContact Center
MiCollab
MiCollab is a real-time communications solution that keeps your employees connected, allowing them to collaborate anytime, anywhere—from any device. MiCollab can help your organization increase productivity by streamlining processes and reducing communications latency.
Flexible premise - or cloud-based deployment
Integrates easily into your existing IT framework
Managed by IT administrators through your web portal
Learn more (PDF)
MiVoice
MiVoice communications platforms offers your business a complete range of advanced capabilities that can help improve employee productivity and maximize efficiencies. Our scalable solutions provide extensive features, robust call control, and seamless integration of applications.
Simple to manage and deploy
Flexible and future-proof
Fits within your existing infrastructure
MiCloud
MiCloud is an all-inclusive storage and communications solutions that will help you work smarter, faster, and more economically. You'll get voice, collaboration tools, conferencing, and more—efficiently and conveniently hosted in the cloud.
Streamline business communications
Connect to anyone, anytime, on any device
Reduce hardware, maintenance, and IT costs
MiContact Center
MiContact Center solutions can help ensure your business runs efficiently. Whether you have one small department or an enterprise-class operation with multiple sites, we have the tools to help you build and maintain strong customer relationships.
Improve customer experiences
Sophisticated routing capabilities
Extensive custom reporting
Product Portfolio
Communications & Collaboration (Enterprise Mobility, Work Anywhere on Any Device)
Business Phones (IP Phones, Digital Phones & Peripherals, SIP Phones & Wireless Solutions)
Migration to the cloud (Hosted Phone Systems)
Cloud Communications (Hosted Services)
Mobile Messaging, Voice & Video
Contact Center Solutions
Harley-Davidson Boosts Customer Service with Mitel Phone System
Burlington, WA
The North Cascades Harley Davidson® dealership improved customer service by replacing an antiquated phone system with a state-of-the-art Mitel phone system. They chose Frontier's for its "one-stop shop" approach to service.
Read case study (PDF)
Auto Parts Retailers Maximize Profitability with New Mitel 5000 System
Susanville, CA
Eleven Napa Auto Parts stores in Northern California maximized productivity and reduced overhead costs with a state-of-the-art Mitel 5000 phone system. They were pleased with a local team of Frontier experts who installed it and provided on-site training.
Read case study (PDF)
Real Estate Agents Stay Connected to Clients with New Mitel Phone System
Kingman, AZ
Agents at Century 21 Barbara Ricca Realty in Kingman, Arizona, have become more productive with a new Mitel phone system. Call forwarding, caller ID, and other advanced features are keeping them connected to clients when they are out of the office.
Read case study (PDF)
Podcasts
Keep your tech strategy fresh with insights from "Gain Your Edge," a twice-monthly podcast on all things IT.
Listen now
White Papers
Learn about new developments and technologies that can help you succeed in your industry.
Read now