Frontier® Business Phone
Get your business off the ground and get connected.
Affordable prices
Cutting-edge VoIP telephone services
24/7/365 Technical Support
Talk the Talk with a Business Phone Plan
It looks like your area might not be covered, but give us a chance to help out! Enter a new zip code or call 1-844-540-4686 to get personalized assistance.
Features Designed with Small Businesses in Mind
A business phone line is crucial for connecting with customers, clients, and remote employees. Frontier gives you the tools to manage your calls and maintain a professional appearance even if you're a small business. Here's just a sampling of the features you get with Frontier Business phone service.
Voicemail
Help customers feel heard when you aren't available.
Call Waiting
Don't worry about missing a call from an important client.
Three-Way Calling
Create mini "conference" calls on the fly.
Get Even More Flexibility from Your Office Phone Plan
Premium business phone features give you the power and versatility you need to deliver the service your customers deserve. These are perfect for organizations with complex needs.
Premium Feature Pack
Hand pick the calls you want to take, prioritize your VIP callers, and avoid telemarketers with our unique Premium Feature pack.
Texting
Offer the convenience of text updates to customers to remind them of appointments, let them know their table is ready, and provide loyalty discounts.
Conferencing
Develop strong working relationships across long distances with convenient conferencing features.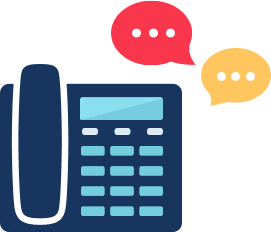 Digital Phone Options That Grow With Your Business
With your high-speed internet plan, you can opt for digital phone service that is a far leap from the landlines of the past. With Frontier, you can make phone calls through a simple internet connection with your choice of Hosted PBX or cloud-based VoIP services. Unlimited calling, a virtual receptionist, and easily scalable phone service makes these ideal options for small businesses.
The Frontier Business Phone Advantage
Frontier offers cutting-edge phone services tailored to the needs of small business owners.
Digital phone plans that can grow with your business
Call screening and prioritization with the premium package
Conference calling to keep you and your team on the same page
Always-available Technical Support
Don't Take Our Word for It
"Without the support that we get from Frontier… we are absolutely unable to efficiently communicate with our clients."
—Darrell Stewart, Owner of the Stewart Insurance Agency
Get Your Quote for Business Phone Service
Fill out this form, and we'll give you a call to answer any questions.
Thank You
Your information has been received.
A representative will contact you shortly.

Let Us Take More Off Your Plate
A bundle from Frontier offers streamlined processes that simplify your work day to get you off the clock and out the door quicker.
Consolidated ordering
Multi-service discounts
Simplified billing and customer service
Easy relocation or expansion
See Your Options
Resources
You have questions. We have answers.
What are the different types of small business phone systems?
There are several types of phone systems for small businesses:
Multi-line phone system. This is the most basic type of phone system. Multi-line systems work well enough for small organizations but can quickly become difficult and expensive to scale.
Voice over Internet Protocol (VoIP). VoIP phone systems operate over a high-speed internet connection rather than a standard phone line. VoIP systems are often cost-effective and offer advanced features, like video conferencing.
Private branch exchange (PBX). This is a centralized phone system with an automated switchboard. PBX systems can be easier to scale than multi-line setups and offer many advanced features, like call holding and conference calling.
Cloud-based phone system. Cloud-based phone systems are VoIP or PBX systems hosted off-site by a third party.
Which type of phone system is right for my business?
This depends on the size of your organization and the specific features you need. Generally, small organizations will be fine with multi-line systems (much better than running your business from your iPhone), whereas larger businesses will probably get more out of a PBX system. VoIP solutions can work well for an office of any size.
Check out our Ultimate Guide to Small-Business Phone Systems to learn more.
How do I choose a business phone number?
Choosing a number for your business phone line is an integral part of branding. There are typically three options:
Local number. This is the simplest option for your phone number—you get it when you sign up for business phone service. It will have the area code of your location, which makes it ideal for businesses that primarily deal with local customers.
800 number. A toll-free number is a good option for businesses serving clients around the country. Although the toll-free part doesn't really appeal anymore—most people have free long-distance calling—a toll-free number can give your business a more professional image and may make your number more memorable.
Vanity number. A vanity phone number is one that uses words. Think 1-800-FLOWERS. This type of number is memorable but can also be expensive. If a significant number of your leads and sales come via phone, you probably want to go with a vanity phone number. The extra memorability can make a big difference.
What is a VoIP phone system?
VoIP phone systems operate over the internet rather than through traditional phone lines. They can offer several advantages:
Cost-efficiency. VoIP systems tend to be more affordable than conventional phone systems thanks to reduced infrastructure.
Powerful features. Easy conference calls and video chatting keep your team on the same page without requiring extra hardware.
Scalability. VoIP phone systems are easier to scale because everything is digital.
What does a business phone system cost?
The cost of your phone system varies depending on your setup type, the features you need, and the size of your organization.