Frontier® Equipment Solutions
End-to-end solutions designed to help your business succeed
The Frontier Advantage
Whether you want to build a new network, expand your LAN/WAN, or enhance your business' voice, data and video capabilities, there are a number of advantages to choosing Frontier for your telecommunications and IT needs.
Frontier works with industry-leading equipment manufacturers, offering you state-of-the-art technology and seamless integration.
We specialize in equipment solutions in the following industries: banking/finance, education, healthcare, hospitality, government, public safety, retail, real estate.
Our reputable partners meet strict certification standards for high quality, reliability, and support.
We provide locally based 24/7/365 customer service and technical support—help is just a phone call away.
Why Frontier Business Phone?
Because OneVoice makes it easy to communicate with customers & employees.
Frontier offers solutions for almost any business of any size-in any industry. Find out how Frontier's Business Phone services helped the Coeur d'Alene Chamber of Commerce improve customer interactions and increase efficiency by 35 percent.
Frontier Certified Partners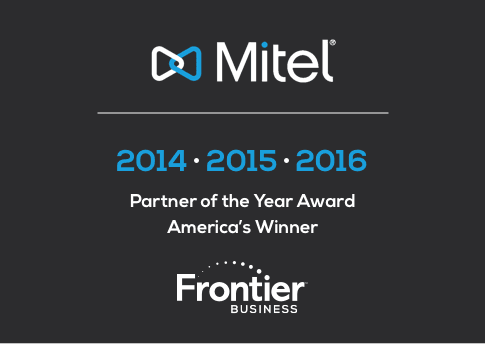 Mitel
Mitel offers state-of-the-art phone systems with a wide range of advanced features, secure cloud storage, and call center solutions for businesses of all sizes. With Mitel's unified communications, your company can increase productivity, streamline processes, and save money on hardware, maintenance, and IT costs. Plus, these solutions integrate easily into your existing IT framework.
With MiCollab, employees can stay connected and collaborate from any device—anytime, anywhere
Improve employee productivity and maximize efficiencies with MiVoice, a platform that's flexible, future-proof, and simple to manage and deploy
Work smarter and more economically with MiCloud, an all-inclusive storage and communications solution conveniently hosted in the cloud
MiContact Center can help you build and maintain strong customer relationships with advanced routing capabilities and extensive custom reporting
As a Mitel-authorized partner for 25 years, Frontier is recognized as Mitel's #1 business partner in North America*
Learn more about Mitel
Cisco
Cisco is a market leader in many IT areas including: routing, telepresence, wireless LAN, switching, Voice, web conferencing, servers, storage area networks & security solutions. The Cisco & Meraki portfolio of networking devices is centrally managed from the cloud. Cisco & Meraki is a secure, 100 percent cloud-based solution that is scalable to networks of all sizes and to tens of thousands of devices. Access points are built from high-grade components and optimized for seamless user experience—faster connections, more coverage, and fewer calls to IT support. With Cisco & Meraki, you'll enjoy a number of benefits:
Deep network-wide visibility that enables smarter network management
Administrators can easily control users, applications, and devices from a single dashboard
Network security is maintained with PCI and HIPAA-compliant cloud infrastructure
Reduce IT costs with no hardware or software to install and maintain
Learn more about Cisco
Avaya
The Avaya Aura® Platform integrates voice, video, data, and web communications—your employees can collaborate from anywhere at any time. Whether they are working from home, a branch office, or on the road, they will have access to state-of-the-art technologies that will keep them connected and productive.
Sophisticated desktop phones have touchscreen capabilities, instant messaging, high-definition video—and calls can be made from cell phones and laptops
A BYOD-enabled network allows employees to connect seamlessly from multiple devices
With AvayaLive™ Connect, you'll enjoy advanced voice features: group ringing, mobile applications, and email notifications of voicemails
The Avaya Aura® Contact Center gives customers the convenience of communicating via texts, chats, emails, and instant messaging
Learn more about Avaya
ADTRAN
ADTRAN offers cost-effective networking solutions that can be customized to fit your business needs. NetVanta® Ethernet switches can support a single location, multi-sites, or an entire campus. If you're looking for a Wi-Fi solution, the Bluesocket vWLAN® eliminates the need for costly hardware controllers, saving you money.
Extended Ethernet can reach up to 1,600 feet with options for 12, 24, and 48 ports
Businesses of any size can choose from multiservice, modular, or fixed-port routers
With vWLAN®, you'll have access to the first cloud-based, virtualized management-and-control solution for wireless LANs
Increased reliability and security with future-proof, scalable, affordable technologies
Learn more about Adtran
Resource Center
Advice & information from industry experts
Case Studies
To learn more about what Frontier can do for your business, read what some of our satisfied customers are saying.
Read Case Studies
White Papers
Learn about new developments and technologies that can help you succeed in your industry.
Read White Papers