Improve Productivity with Frontier AnyWare, Available Nationwide
Collaborate anywhere, anytime by combining VoIP and unified communications services—starting at $19.99
Learn more about Frontier AnyWare
Services subject to availability
Get more for less when you bundle
Get the most for your money when you combine internet, phone, and security services.
Enter your zip code to find bundles in your area.
Bundles

Save more than money with internet and phone bundles

See Bundles
Frontier Connect – WAN.
An out-of-the-box solution to connect employees, streamline data access, and help secure your business network from a single provider.
Learn More
What happens when you switch to Frontier? Ask this web design firm.
"I like to think of Frontier as our silent partner. They've been amazing because we don't know they're there."

— John Scheer
During its first five years, design firm Herman-Scheer faced constant internet outages and useless calls to technical support. But the firm switched to Frontier Communications-and everything changed. Watch this video testimonial to learn how.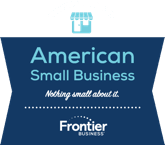 Frontier® Is a Proud Supporter of Small Businesses
Thank you to all of the small businesses that entered our 2018 American Small Business giveaway. Your hard work creates new jobs and builds strong communities.
See the winners
Make your business a more inviting place
Keep your customers entertained with FiOS® TV For Business
Learn More
Advance Your Business with High Speed Internet from Frontier Business
Packages

Internet

Phone

Wi-Fi

Secure
Frontier Business Internet
99.9% average uptime for total reliability
Wi-Fi Router available
Speeds up to 20Mbps
Free Internet installation available with minimum 1-year agreement
24/7 US-based Business Class Support
Frontier Business Phone Service
Nationwide & local calling plans
Includes voicemail, caller ID, call forwarding & more
24/7 priority tech support
Combine Frontier Business High Speed Internet & Phone Services and Save
Package Internet & phone to save up to $49/mo
Add Texting or Frontier Secure for even more savings
24/7 US-Based Business Class Support
Frontier Business Wi-Fi
Secured wireless networks for customers & guests
Customized wireless networks for small, medium and large solutions
Remote management & monitoring
Easy to Customizable Splash Page for brand consistency
24/7 Business Class Support
Frontier Secure
Award-winning computer protection1
Cloud data backup to protect important files
24/7 Premium Technical Support
1 Best Protection Award by AV-Test. https://www.av-test.org/en/award/2014/best-protection-f-secure/
Small Business

Find solutions for your business of < 20 employees.

See Products
Medium-Enterprise

Find solutions for your business of 20+ employees.

See Products
Equipment

Find solutions for your complex data & voice needs.

See Products
Enterprise Solutions
Rely on our expertise to design telecom systems that span multiple locations, accommodate massive data transfers, provide reliable networking for up to hundreds of employees, and more.
Learn about Enterprise Solutions
Resource Center
Because you have questions, not just product needs.
Testimonials
Hear from satisfied customers featured in our case studies.

"Frontier is available when I need them. They get things accomplished quickly and effortlessly, and that is a necessity for any business."
— Mark Miller, General Manager, Town Toyota Center

"While any change is difficult and has its challenges, Frontier has been proactive in making sure the change-over was done with as little disruption as possible."
— Amanda Ward, Principal, Chemawa Indian School

"We were able to reduce headcount and maximize profitability because calls were not lost."
— Jennifer Jaegel, Napa Sierra