Protect Vital Data with Frontier® Secure
Safeguard your digital property with award-winning protection from Frontier.
Security solutions recognized for excellence by AV-Test1
Affordable device coverage & cloud solutions
24/7 Technical Support
Packages starting at $15.99/mo up to 5 workstations
Frontier Secure Packages
Keep your business supported, connected & protected with Frontier Secure.
Frontier Secure helps protect your digital assets with a three-pronged approach designed to mitigate a variety of risks—loss, theft, corruption, and more. Start protecting your data assets today with an all-in-one package featuring innovative digital solutions from Frontier Secure.*
* Smartphones are not supported with Office Multi-Device Protection and Office Multi-Device Plus Protection. See Terms & Conditions (https://frontier.com/corporate/terms) for additional information.
Learn More about Frontier Business Backup and Recovery Solutions
Computer Security Pro

Content Anywhere Pro

Premium Technical Support Pro

Mobile Security Pro

Office Multi-Device Protection
Starting at
$

14

.

99

/mo
Central Management Console to monitor security across devices
Advanced malware and spam protection
Automatic software updates
Support for desktops and laptops**
Unlimited phone support
Starting at
$5.99/mo
with 50GB of storage
Shared storage across unlimited number of devices
Advanced security
Comprehensive cloud functions including Backup, Recovery, Share, Sync, and Collaborate
Unlimited phone support
Starting at
$14.99/mo
up to 5 workstations
Unlimited PC tune-ups and security checkups
Anti-malware and firewall updates
Wireless network setup and troubleshooting
Windows software installation
Unlimited phone support
Starting at
$1.99/mo
up to 5 Android devices
Firewall, browsing protection and anti-malware
Remote locate and wipe
Unlimited phone support
Starting at
$12.99/mo
for $2,500 of coverage
Coverage for 12 consecutive months
Covers electronic or mechanical failure, plus accidental damage for eligible devices†
Onsite service and prepaid express shipping
Quick, easy claims process
Unlimited phone support
Frontier Secure Features
Frontier offers powerful protection for your critical data:
Advanced Malware and Spam Protection.
Get top-notch identity protection, and keep customer and company data secure. Frontier Secure provides protection from malware, spyware, and viruses that can compromise your sensitive information. This includes downloaded .dll and .exe files, which are common sources of infection.
Comprehensive Device Protection.
Get accidental damage coverage for your devices so you never have to worry about an accident putting your business out of commission. Multi-Device Protection provides up to $2,500 in coverage for your laptops, notebooks, and tablets and is backed with the unlimited phone support that comes with Frontier service.
Automatic Software Security Patches.
Keeping software up to date is crucial for security and identity protection, but it's also time-consuming and inconvenient. Frontier Secure checks for and applies updates automatically so you can stay focused on work. Frontier software updates even work with third-party programs in addition to Windows platforms.
Central Management Console.
The Frontier Secure central console lets you manage all your business devices from one location. Keep up with mobile devices, desktops, and laptops with a simple monitoring system.
Powerful Cloud Platform.
Content Anywhere Pro gives you secure cloud storage and sync for your business's data. Store images, files, backups, and more, and share them across an unlimited number of devices.
Unlimited Phone Support.
Help is just a phone call away. All Frontier Secure products come with unlimited phone support with a customer care center so you never have to worry about solving a problem on your own.
Essential Technical Support.
Get the support your business needs to stay up and running. Get 24/7, tech support for any issues you run into. Frontier agents can help set up software, update your anti-malware and firewall settings, and give your computer a security checkup to identify problems.
Integrated Business Solutions.
You can combine Frontier Secure with high-speed internet and phone service to create a complete business connectivity solution, all backed by 24/7 tech support from a top telecommunications company.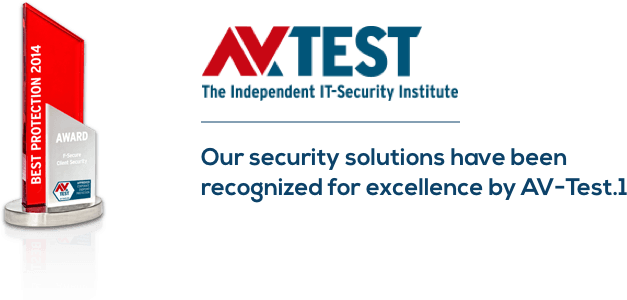 See How Frontier Secure Stacks Up Against the Competition
| | Frontier Secure | Kaspersky Anti-Virus | Avast Internet Security |
| --- | --- | --- | --- |
| Firewall Protection | | | |
| Phishing and Fraud Protection | | | |
| Detection and Elimination of Viruses | | | |
| Spyware Protection | | | |
| Malware Protection | | | |
| Site Authentication | | | |
| Customer Service | | | |
| Country of Origin | US | Russia | Czech Republic |
See How Frontier Secure Stacks Up Against the Competition
Frontier Secure
Kaspersky Anti-Virus
Avast Internet Security
Frontier Secure
US
Kaspersky Anti-Virus
Russia
Avast Internet Security
Czech Republic
What Reviewers Like about Frontier Secure
We think Frontier Secure is great, but don't just take our word for it. Here's what reviewers like about Frontier Secure:
The antivirus software is operated by F-Secure Corporation, one of the leading providers of antivirus programs. F-Secure Internet Security software provides a firewall, phishing protection, malware protection, and more, and it has won numerous awards.
Frontier provides an á la carte menu of services—you aren't required to pay for something you don't want or need.
Frontier Communications is a leader in the industry, with decades of experience, $6 billion in annual sales, and a workforce of over 14,000 employees based entirely in the US.
Reviews have noted areas for improvement as well:
Frontier Secure doesn't include insurance or protection for customers in the event they are a victim of identity theft. Frontier Secure does provide device protection, though, so any lost or stolen hardware will be covered.
Frontier only offers one identity protection plan. However, with all the á la carte options available, customers can put together a Frontier Secure plan that covers all their needs.
Frequently Asked Questions
What's the Cost of a Business Internet Security Program?
Internet security costs can vary depending on which features you need for your business and which provider you choose. Frontier offers convenient á la carte packages so you can pick and choose the features you want.
What Are the Most Important Security Software Features?
When choosing security software for your business, you want to look for features that help provide data and identity protection:
Virus and malware protection to prevent rogue software from transmitting or deleting sensitive data, like Social Security numbers, inside company data, and private customer information.
Mobile device security, including the ability to remotely wipe a lost or stolen phone. This helps provide great identity protection in case a company employee accidentally leaves a phone in a cab or restaurant.
Automated security updates that ensure your devices are as protected as possible.
Centralized device management for easy monitoring of computers and phones.
Secure cloud solutions with backup, recovery, and syncing features.
Great Technical Support is also important to help ensure everything runs smoothly. Frontier offers 24/7, customer service.
Does Frontier Secure require a contract or service agreement?
Frontier Secure does not require a contract. Each package is paid on a month-to-month basis, and you may cancel at any time. That also means there are no early termination fees to worry about.
Signing up for a bundle with Frontier internet or phone may require a minimum one-year service agreement.
Frontier Secure Broadband & Phone
It pays to be secure.
Get a $5 credit toward your monthly bill when you add any Frontier Secure package to business broadband and phone.
Offer for new business customers. Must subscribe to new High-Speed Internet (HSI) for Business with minimum one-year agreement. Internet will be provisioned with maximum speed as fast as 12 Mbps download based on line requirements. Maximum service speed is not available to all locations and the maximum speed for service at your location may be lower than the maximum speed in this range. Service speed is not guaranteed and will depend on many factors. Your ability to stream may be limited by speeds available in your area. Service and promotion subject to availability. Internet installation ($20), taxes, governmental surcharges, and fees, including Business High-Speed Internet Fee ($5.99/mo.), Wi-Fi router service fee (included for length of term agreement, then $10/mo.) and other applicable charges extra and subject to change during and after the promotional period. A $9.99 broadband processing fee upon disconnection of service applies. Early termination fee of $33.33 per month, times the remaining number of months in the term agreement, will apply. Price guarantee applies to base monthly rate. Other restrictions may apply. Frontier reserves the right to withdraw this offer at any time.
Learn More about Frontier Business Secure Packages
Fill out the form and we'll give you a call to answer your questions about Frontier Business Secure Packages.
Thank You
Your information has been received.
A representative will contact you shortly.
**System requirements: Windows XP SP3 32-bit only, Windows Vista and higher 32-bit and 64-bit: 1 GB or internet access service and charges not included. Taxes, minimum system requirements, and other terms and conditions apply.
†Homemade computers and smartphones are not covered. ADH coverage (accidental damage from handling) protects equipment from cracked screens, spills, drops, and other mishaps. ADH coverage is available only for laptops, notebooks, and tablets. Pre-existing conditions are not covered. Claim eligibility begins after the first 30 days. Replacement equipment or parts may be new or remanufactured with the same or comparable model. A non-refundable service fee of up to $89 applies per claim for covered equipment. An aggregate claim limit per 12 month period applies. Internet access service and charges not included. Smartphones, homemade computers, and damage from improper use of equipment not covered under accidental damage from handling. Additional exclusions apply. Taxes, governmental and Frontier-imposed surcharges, minimum system requirements, and other terms and conditions apply. Frontier reserves the right to withdraw this offer at any time. ©2017 Frontier Communications Corporation.
1Best Protection Award by AV-Test. https://www.av-test.org/en/award/2014/best-protection-f-secure/