Growth
10 Features of Every Great Small Business Website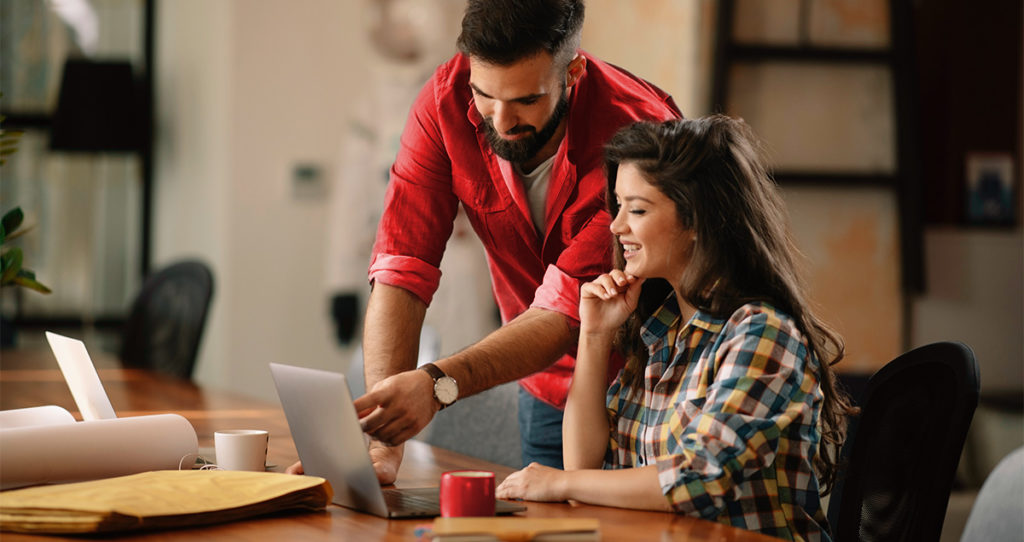 So, you've decided to build (or refresh!) a website for your small business. What now? Do you need a fancy site packed with the latest web design features? Is it possible to maintain such a website and run your business?
Good news: If you follow web-design best practices, including responsive design, evocative imagery and well-written content, you don't need a flashy website with animated transitions and parallax scrolling. A great website helps visitors understand who you are, what you do and how your business can help them. Here's what to include:
1. A homepage that establishes expertise
Front and center, tell visitors what problem you solve. Visitors make a snap judgment—in about half a second, according to Sweor—about whether they'll stick around. Focus on using the website homepage to quickly establish what you do and where you are. Use quality photos and typography and clear language. Consider explainer videos if your business or your approach is niche. Homepages with a single hero image and a couple lines of text are common today, but those aren't always helpful. Images of your product being used, testimonials and endorsements can all be powerful aids to an effective homepage.
To make sure your site is user-friendly before you publish, show it to people who will be honest and ask targeted questions: What does this business sell? Where is it? How do you buy? Reassess from there. After you launch, you can use software like Google Analytics to track how your site is performing.
2. Blog
Sixty percent of purchasers use blogs when making decisions. When you create a business website, a blog is a high-impact, low-cost way to draw more visitors to it. Blogs are great for SEO, establishing expertise and building relationships with potential customers. Unlike advertisements or social posts, your blog posts are forever, so you're creating a portfolio of content anyone can find when searching the web.
Learn how to start a blog and keep it going, then check out some content ideas. Include SEO-friendly keywords in your posts. Search engines look for content that helps users get to the answers they need—focus on being helpful first, then consider inserting keywords in logical places.
3. Reviews and "social proof"
Customer reviews and testimonials are great sources of content that inform purchase decisions and provide "social proof" for your product or service. Social proof, according to Dynamic Yield, is the phenomenon where people assume that because other people are doing something, it's the right thing to do. So make sure you ask customers to review your small business, and then include reviews on your website, including on your homepage and individual product or service pages. Use them to tell a compelling story: How many 5-star reviews do you have? What do the glowing reviews say?
4. Clear navigation
You always need to give visitors a place to go from every page. Don't strand them without a destination. Website navigation can run along the top of the page and contain the most important links on the site. Use clear language to guide visitors to the pages that matter most: your key products or services, your contact information, your online store.
Note: You may also hear the term "menu." Menus have lists of subordinate options—submenus—but they're often used interchangeably. Use submenus sparingly, as they can spiral visitors into total confusion about where to go.
5. Calls to action
A call to action (CTA) is a button that encourages your visitors to do something and links them to a page where they can do that thing. Call-to-action examples include "Call now!" or "Get the free e-book" or "Sign up for our webinar."
6. Landing pages
Landing pages with forms are pages where you "land" after clicking a CTA. Use them to offer your prospects something—a consultation, a white paper, a webinar—in exchange for information about them, including an email address. Collecting this information helps generate and prioritize leads, allowing you to communicate with visitors to your site only about topics that interest them.
7. Interactives
Consider adding a quiz, calculator or other interactive to your small business website. Interactive lead-generation tools are essentially dolled-up forms, but they help website visitors solve a problem and feel enamored of your small business.
8. Easy-to-find contact info
The Contact Us page is one of the most visited on a website, according to HubSpot. Use your site's footer or a Contact Us page linked from your navigation, or both, to provide: address, phone number, email, contact forms. Include social links prominently, so visitors can follow you on Instagram, LinkedIn and Twitter.
9. E-commerce
Most businesses can benefit from adding e-commerce to their websites. You can add e-commerce to sell product kits, gift cards or merchandise, or to collect deposits. When adding e-commerce, consider including trust badges, which reassure customers your site is a secure destination.
10. Mobile-friendly design
About half of online shopping is done from mobile devices, and nearly two-thirds of searches take place on mobile. Further, Google boosts mobile-friendly sites in search results. This doesn't mean building two websites. Responsive web design, which auto-adjusts content based on the size of the visitor's screen, is available in templates from the major website builders, including HubSpot, Shopify, Squarespace and Wix. Google also provides a Mobile-Friendly Test tool that helps identify potential issues with your site on mobile devices.
Want some inspiration? Check out some small business website examples we love, and then get to work!