Hospitality
10 Ways Restaurants Can Use QR Codes, From Marketing to Payment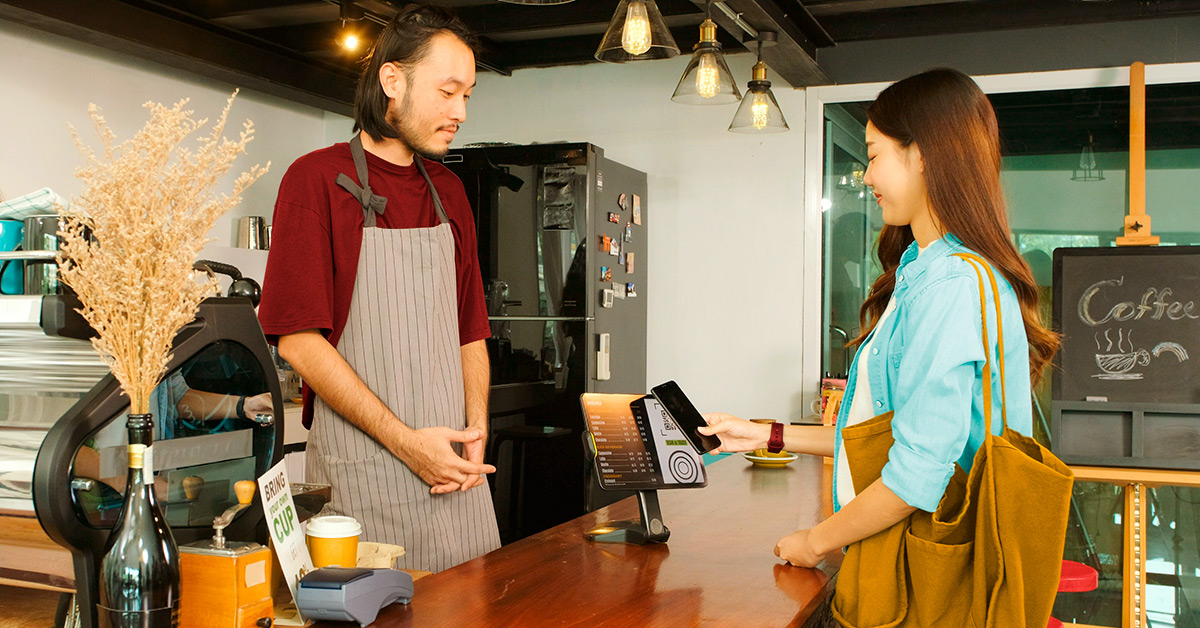 Restaurants turned to QR codes to make it easier for diners to order food and drinks touch-free. But the little pixelated squares have had a resurgence since then, as restaurateurs are realizing the benefits of using QR codes far beyond digital menus.
From boosting branding, facilitating payments and creating dynamic experiences that keep customers coming back for more, these little symbols have cracked the code. Read on to learn how you can, too.
1. Enable fast and easy online ordering
Whether for sit-down diners or customers taking a meal to go, a QR code that facilitates payments can let them both scan your menu and pay, all from the same page.
It's essentially like starting a tab. Eat-in diners can continue to order more food and drinks as they like, rather than having to flag down a server.
2. Keep your restaurant menu up to date
Menus and other content generated with QR codes are far easier to update in real time—with most, you can simply go into an app and put in new info in under a minute. This way, you have more freedom to play around with fun specials and eliminate 86'd items.
Plus, you can add up-to-date photos of seasonal ingredients or dishes, leading to more sales from hungry diners.
3. Generate reviews
If you're looking to increase your presence on review sites, QR codes are a great way to do it.
Whether it's displayed on the table or printed on a takeout menu, you can link to a QR code that takes customers directly to the review site of your choice. Add a little info about what you're hoping your customers will do—offer reviews for your new outdoor seating setup, for instance. And you can personalize the QR code to automatically offer incentives, like discounts or coupons as soon as they complete the review. (Be sure to check the review site to view their policy on incentivizing.)
4. Conduct surveys
Need an easier way to get important customer feedback? Provide them with a QR code to take a quick three-question survey. Place it at your tables, on takeout menus or anywhere else your customers will see it. It can be a great, efficient way to get the information that helps you provide the options that will keep your diners happy.
5. Make it easier for customers to pay
Customers are eager for contactless payment options. Plus, if you're dealing with staffing issues as in-person dining resumes, providing ways to conveniently pay online can help service run smoothly and free up your staff for other tasks.
There are tons of QR codes you can display right on your table that facilitate easy online payment abilities, especially through payment apps you may already use. Shopify and Square users can set up self-ordering QR codes or ones for contactless payments, and PayPal allows you to generate a payment QR code right from their business app.
6. Build out your content
It's as important as ever to build your online presence so that you come up in search results when people are Googling great food in your area. Your content strategy will look different depending on your offerings.
You could start a YouTube series that offers pizza-making techniques, create a podcast talking to different chefs in your area or share a video feed from your pastry chef creating stunning cake designs. You might even have an online store, where you curate a trusted list of the best cooking utensils and get affiliate income from any sales.
Where does the QR code help you with restaurant content? Use it to easily direct customers to your entire content library, whether it's your YouTube page or your Instagram store.
7. Get promotions in new places
Advertising can be expensive, and QR codes can help with that. They don't take up much room in an ad or brochure, but they can link to online forums with endless space. Create an eye-catching QR code you can display anywhere—local newspapers, church bulletins, flyers displayed at other nearby businesses, your own business card—and use it to draw curious potential customers to an online space with more information about your business, like your website or social media page.
The key is to make sure people take that initial step of scanning your code. You might also try enticing them with special discounts or offers if they scan.
8. Create dynamic experiences
QR codes can help your customers have even more fun while they wait for their food. You can use a QR code to link to fun activities they can do with their fellow diners. A code might send them to an online trivia game, for instance, or family-friendly conversation starters.
You can also use these dynamic experiences as subtle marketing. Maybe you link to a game where customers can build their own outlandish dessert—the fun exercise might make them more likely to choose something from your dessert menu later.
9. Give customers more info about their food
Consumers are more eager than ever to get detailed info about their food. QR codes can link to special sections of your menu for items that are vegan or gluten-free, for instance.
Local food sourcing is important to many diners. Let's say all the chicken and vegetables you use come from local farmers. You could put a QR code on your takeout packaging that directs customers to some info about that small business, like their social media page or videos showing off the farms.
Providing QR codes with that information demonstrates you're a restaurant who cares about the specific needs and interests of all your diners.
10. Provide Wi-Fi access
Rather than have to punch in a code, scanning a QR code can give your customers immediate Wi-Fi access. They don't even have to know the password in order to jump on your network—the QR code just takes them online. Along with making it easy for your customers to connect, this can cut down on any neighbors trying to sneak onto your network because they know the password. Plus, by providing the QR code inside your establishment, you can help guarantee that it's only paying customers who are accessing your Wi-Fi.
How to set up a QR code for a restaurant
Check to see if the online menu or payment service you use lets you generate QR codes through them. If they don't, there are tons of different QR code generators online, like Beaconstac, QR Code Generator, QRCode Monkey, Scanova, QRTiger, Visualead and QRStuff.
There are a few things to keep in mind while you're finding the right QR codes for restaurants. First, you almost certainly want a code that can facilitate payments, as it's convenient for both you and your customers. You also likely want a dynamic code, which means you're free to change the information that the code links to whenever you need.
Once you've put in a little initial work, your restaurant QR code can be the key to generating new business, keeping customers happy and attracting the new diners that will keep your business strong for years to come.
Product features may have changed and are subject to change.