Growth
4 Ideas for Great Video Content on Your Site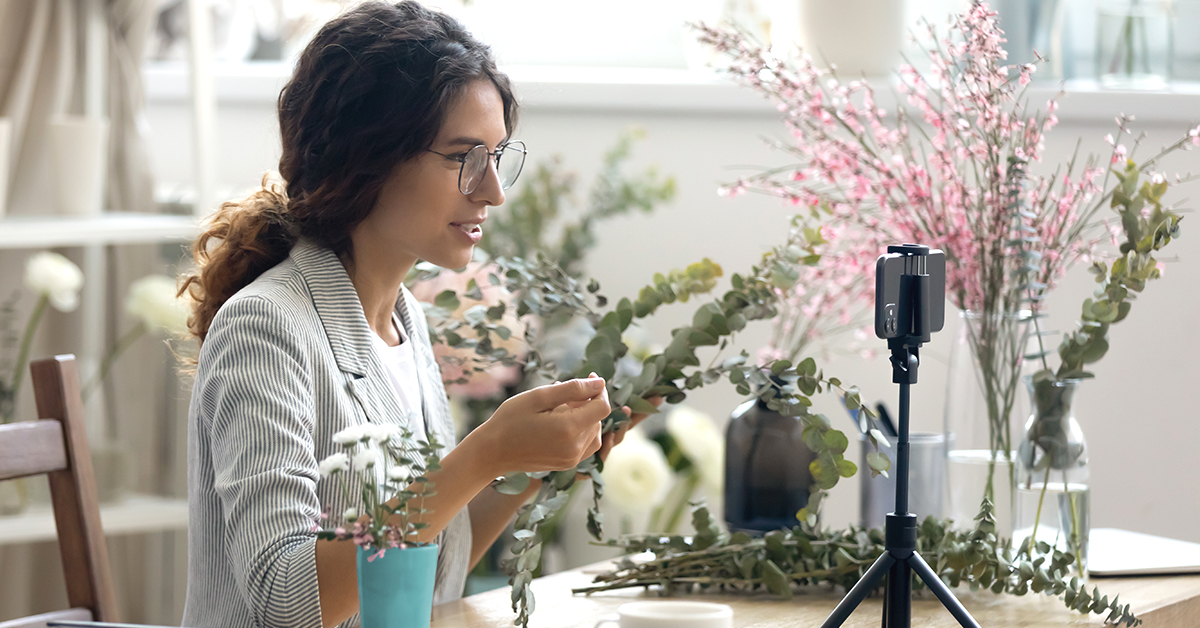 When it comes to promoting your business online, video content is king It drives traffic to your site and keeps it there by engaging viewers like no other. If you need proof, consider this: A Wyzowl study found that 96% of respondents have watched an explainer video to learn more about a product or service.
That said, there's a reason not all businesses use video to promote their brand. It can be overwhelming to plan and create quality video content on a small budget.
Good news: There are several types of video content any small business can produce without spending a fortune.
Here are some ideas to help you start using video to enhance and promote your business.
1. Build

trust with a staff interview

One major advantage of video is its capacity to engage the viewer. At their best, brand videos can feel like a conversation. What better way to boost that connection than with, well, an actual conversation?

A Q&A with company staff is a great place to start, especially for businesses in law, real estate and health.

To understand why, put yourself in the shoes of a woman seeking a probate attorney. Her mother has passed away without a will and no one agrees on how to divide the estate. She's going through a stressful, painful situation and needs professional help. Sure, pricing and reviews will affect her choice of firm—but trust may be just as important.

An interview with the partner of a probate law firm could go a long way toward earning that trust—and her business.

Pro tip: Mix conversation with information. Let customers get to know you while showing them you know your stuff.
2. Connect with customers with a testimonial
The testimonial is a tried and true classic of video advertising. When we hear praise for a business from an actual person, we're more likely to believe it. Done right, a testimonial is word-of-mouth advertising at scale. After all, 9 out of 10 people say they trust what a customer says more than what that business says about itself.
Check out this example from real estate agent Greg Guinto. This young couple says hiring him "evaporated" their fear about buying a home. That carries far more weight than if he said it himself.
Like staff interviews, testimonials add a human element to your promotion strategy. Businesses that guide clients through significant life events, like real estate firms and jewelers, should take note.
Pro tip: Happy clients love your business—let them shout it from the rooftops! When you receive positive feedback from a client, ask them if they'd be willing to record a testimonial.
3. Showcase products with a demo video
Why are TV infomercials so weirdly captivating? You can read about something until you're blue in the face, but seeing is believing.
If you sell a physical product you can show off in a video, do it! Demonstration videos show potential customers you're the real deal. Digital-first companies can get in on the action, too. Simply record your screen while using your software or web-based platform.
What if your product isn't something you can show off OxiClean-style? A product video may be for you. Rather than demonstrating the use of the product, it explains the product's features.
For example, Mum Bub Hub's postpartum care line is not the right choice for a demonstration. But this product video shows off its features without getting explicit (keep watching for a bonus tutorial!).
Pro tip: Mum Bub Hub hired a professional to design their snazzy product video. This can be more cost effective than you might think!
4. Increase traffic with a tutorial video
"How to [blank]" is one of the most commonly searched terms of all time. Making instructional videos is a smart way to drive search traffic to your site.
Let's take an example from contracting. Tens of thousands of people search for "how to remove popcorn ceiling" every month. Many of them will click on this result from The Drywall Doctor in Illinois.
At the end of the video, some potential customers will try this DIY, then subscribe for more useful content. Others will be convinced it's worth hiring a contractor. Either way, that's a win for the business.
Pro tip: When it comes to tutorial videos, quality is key. Choose a topic on which you're confident you can inform and instruct.
Remember the basics
No matter what kind of video you make to promote your small business, remember these guidelines:
First, be thoughtful about length. Marketers used to follow the "two-minute rule," believing potential customers pay attention for a maximum of two minutes, so don't bother with anything longer. But that's not always true. Sure, if you're making a quick ad for Instagram, shorter is better. But don't cut your in-depth how-to video off halfway through. Some top-performing YouTube content is actually closer to 10 minutes long.
Next, consider production value. You can produce and share a video with little more than a smartphone camera and an internet connection. That said, a little bit of tech can go a long way. At the very least, try an editing software to clean up your footage.
Finally, video can eat up a lot of data and bandwidth. If you haven't already, upgrade to fiber-optic internet to ensure your business can handle it.