Hospitality
4 Tips To Use E-Commerce To Boost Your Restaurant's Website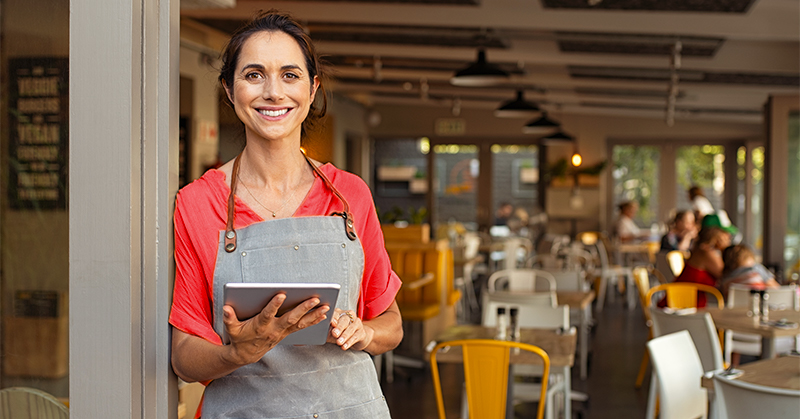 The restaurant industry has seen a complete overhaul this past year, and the hunt is on to find new, versatile business plans to grow business. Taking advantage of e-commerce to offer new products, boost restaurant sales and add new revenue streams can increase margins going forward.
E-commerce is positively booming. More customers than ever buy products online, and more services than ever are making it possible for you to create and manage an e-commerce website for restaurant products—beyond dining—with relative ease.
Check out the top tips to launch the restaurant e-commerce website that will delight both you and your customers.
1. Figure out what you have to offer
Determine what separates you from the crowd—and how you can package it up and put it in the hands of your customers. Here are a few suggestions:
Homemade food product – Got a secret sauce or a to-die-for pickle? Put it in a jar and add it to the online menu. This is a great way to earn more money from something you're making already. Share it with locals and with people who live too far away from your restaurant to be regulars.
Meal or drink kits – Help people spice up their lives by offering full meal or drink kits that allow them to have the (almost) restaurant experience, even when they can't make it into your place. You can charge for a cute package of ingredients they can use to create your custom cocktail, all the fixings to design their own frosted cookies or the tools to grill the perfect steak.
Merchandise – From baseball caps with your logo to keychains in the shape of your famous ice cream cones, dream up fun merchandise to sell. Don't be afraid to go beyond t-shirts and think outside the box with something that makes your place unique. Maybe your restaurant has a historic storefront or a gorgeous view—you could sell prints of that view designed by a local artist or serving boards emblazoned with your picturesque storefront. If you're known for baking cookies that produce a heavenly scent, you could branch out by creating candles with that tantalizing aroma. The right merchandise can also attract a huge following on social media, so make sure you're showing it off on your social pages in addition to selling it via your e-commerce website.
Skills – Whether it's via a Zoom session or safely back in your kitchen, consider charging people to learn how to master the skills you show off at your restaurant. Through classes that demonstrate anything from making homemade pasta to frosting a cake, you can make it fun and easy both for regular customers to engage further with your brand and for curious newcomers to walk through the door.
Events – Why not draw in new customers by throwing an event in your restaurant, now that in-person gatherings are becoming more possible? You can use your e-commerce website to sell event tickets to an evening featuring readings from local travel writers, and serve appetizers based on their readings, or host a wine tasting and speed dating event for those eager to meet new people after spending a year stuck indoors.
Don't worry that showing off your secrets or selling your sauce will ultimately drive customers away. Even if they get a little better at poaching an egg (thanks to your class) or can enjoy your secret sauce at home once in awhile, people will always want the restaurant experience.
2. Use the tech tools you already have
There are plenty of affordable and accessible tools available for you to build and manage your e-commerce website so you can sell products online. First, though, check if you can streamline your offerings by incorporating online sales into tools you already use. This makes it easier for customers to access your products, helping to increase conversion rates.
For instance, if you use an online ordering service like DoorDash or Grubhub, you can give customers the option to throw in a jar of your homemade salsa with their delivery order. Or, if you already have a restaurant or menu website via a platform like Squarespace or Wix, it's easy to tack on an e-commerce section to your existing site. So, when customers come looking for your brunch menu, for instance, they can also click right over to see you offer a virtual class for cooking your famous Eggs Benedict.
If you already have a social media presence, don't forget to integrate your products there. For example, Instagram Shops allows businesses to add their products to their page, which means customers who have their payment information already stored within Instagram can buy with a single click. This speed can keep customers from thinking too hard about a purchase and drive fast sales.
Still, it might make sense to also build a separate e-commerce website to market your new products and services. Getting eyeballs on your offerings in as many places as possible is going to be key to e-commerce success.
3. Utilize analytics to measure how you're doing
You may not realize how much information is available about the way your customers think and shop online. Platforms like Wix, Squarespace and Shopify provide you with some information about the way your users engage with your site. If you're inclined to learn more, take a look at tools like Google Analytics, Optimizely, Crazy Egg or Hotjar to see what your customers are doing with your e-commerce offerings.
Using the analytics tools on these sites, you'll be able to see info like how long shoppers let a product sit in an online cart, if they spend time on your website but don't end up purchasing a product, how customers find your site and what time of day they tend to visit.
Armed with insights like these, you'll be able to see how you can enhance your offerings—maybe you realize that low conversion rates mean you need to drop prices a bit or that tons of time spent on the website without buying anything means you need to make your information a bit clearer and easier to find.
4. Make sure your network can handle the load
Give yourself every advantage in creating and enhancing your e-commerce site. Invest in a platform that's well-reviewed, secure and reliable. And check in with your provider to make sure you have the most up-to-date service available to make your uploads and transactions as smooth as possible.
Product features may have changed and are subject to change.