Hospitality
5 Easy, Affordable IoT Solutions for Restaurants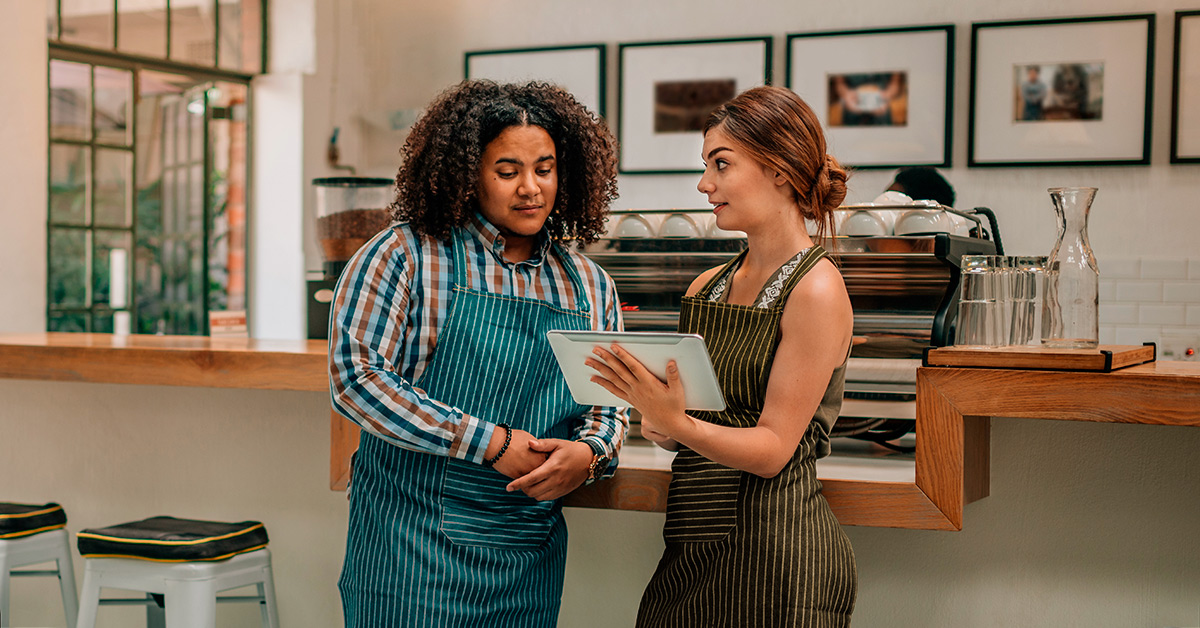 Simple, easy-to-use and affordable Internet of Things (IoT) devices are helping restaurant owners do their jobs better every day. From improving the customer experience to cost savings to compliance monitoring, there's likely a situation you've got that can be enhanced with an intelligent device. And game-changing smart tech can be as easy as the click of a few buttons.
Here's a roundup the best IoT solutions for restaurants to help you and your team run your place as smoothly as possible.
1. Smart security systems
A smart security system is a great first step for using IoT to affordably protect your restaurant. You can set up small, smart security cameras or sensors around your restaurant that keep an eye on the place for you. Then, you can remotely monitor the footage or control the devices (typically from an app on your phone). This gives you the power to do things like double-check that your team locked up the restaurant from wherever you are (or unlock the doors for them if someone forgot their keys), view the status of deliveries and just generally help you and your team feel safer when closing late nights or opening early mornings.
A great smart security system for small businesses is Vivint, for two reasons. First, it allows for total customization—you can get a wide range of indoor and outdoor smart cameras, locks, sensors, lights and alarms to fit your restaurant's needs perfectly. Second, though it's possible to set it up yourself if you'd like, it's also affordable to have professionals both install and monitor your system (for a monthly fee).
SimpliSafe is another great affordable option, especially if you're most worried about indoor security.
2. Scheduling software
Creating a schedule that works for everyone on your team can be one of the toughest, most time-consuming parts of running a restaurant. Enter smart scheduling software. Remarkably simple to use right from a smartphone or computer and often coming it at under $100 per month, scheduling software can help you manage your workforce more efficiently.
Designed specifically for restaurants, 7shifts is a popular option. The program makes it easy to plan schedules with drag-and-drop options, automatically factors in employee availability or logistics like overtime, sends the schedules directly to employees and allows for chat or messaging between employees who want to rearrange shifts. Plus, it integrates with several different POS systems.
RestaurantOps is another good option that provides a simple tracking system, gives employees an app and integrates with other software, including ordering apps
If you want a full labor-management platform, check out Push. Along with scheduling, the program can handle onboarding and payroll, and it even allows you to track individual Key Performance Indicators (KPIs) or milestones to help motivate employees.
3. Food safety and temperature monitoring
A relatively small upfront cost to remotely monitor your refrigerated or frozen food with IoT can wind up saving you thousands a year in wasted food—and help make sure you never fail a compliance test.
Companies like Therma, SensorSwarm and Swift Sensors all make small, wireless sensors you can place directly in your coolers, without any need for extra wiring or professional installation. There, they'll be able to monitor temps 24/7. You'll be able to check a report of those temps whenever you want via an app, and you can get messages for any unexpected activity like a power outage, if an employee mistakenly flips a cooler switch on or off or if maintenance is needed.
4. Energy savings
Smart utility and energy systems are already one of the more popular ways to create a smart home, and there's no reason you can't implement those options into your restaurant, too. The intelligent devices learn your energy needs over time, making sure you're never unnecessarily using heating or cooling you don't need, and allowing you to remotely take control of settings right from a smartphone whenever needed.
While you can certainly use systems designed for homes, such as the Nest Thermostat or Ecobee, there are also smart energy systems for small businesses and restaurants. Solutions like Zen Ecosystems work as smart thermostats for your restaurant, but also monitor and automate your HVAC performance. This can be a giant cost and energy saver: As much as 40% of energy used by restaurant HVAC systems is leakage.
5. Inventory management software
Let a smart system do the difficult work of inventory management for you. This software can fully integrate into your POS system and help you manage your ingredient levels and costs, and keep track of purchase orders and deliveries. They also offer forecast data, preventing any cost or supply surprises.
Toast and MarketMan are two of the best inventory management software options for restaurants. You'll get information sent right to your device, and you'll be better able to make decisions that minimize waste and streamline your overall operations. Plus, it makes it easy to share details about your inventory via a dashboard, messages or emails, allowing several managers, vendors and buyers to all have the same, accurate and up-to-date information about your stock.
Not sure where to start? In most cases, you can give these options a try. Nearly all smart systems allow you to run free trials for a week or two. Play around with a few smart systems to see which one fits your needs best to help you run your restaurant more efficiently.
Product features may have changed and are subject to change.