Hospitality
5 Ways Apps Make Running Your Restaurant Easier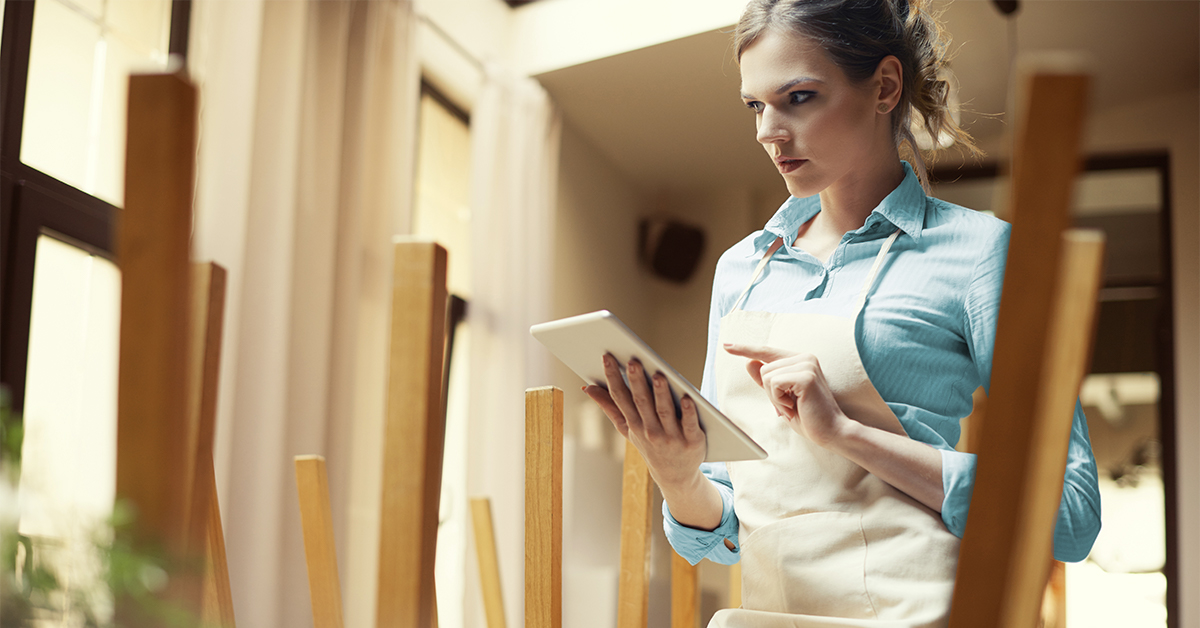 You've run a restaurant long enough to know that running one successfully is quite a feat. From hiring qualified employees to maintaining inventory to marketing to updating your menu. And, of course, preparing food and getting it onto tables or out the door for delivery. Managing an eatery of any size requires wearing many hats.
Luckily, a variety of apps can help lighten the load. We've picked 5 time-consuming critical tasks that all have apps to help make running your restaurant a little easier and more streamlined. Each task includes recommendations for apps that are easy to use.
1. Inventory tracking
No server wants to have to tell a table of customers they're out of someone's favorite dish. An app can avoid this negative customer experience and keep tabs on all of your restaurant's ingredients. An inventory app not only helps you track your food inventory, from fresh produce to what's stocked in the walk-in freezer, but can also automate things like item prices, reordering and more.
An inventory app can help keep costs down and reduce food waste by using past reports to help guide your future orders. This is key, as more than half of restaurant pros cite high operating and food costs as top challenges.
Inventory apps: Restaurant365, MarketMan, BevSpot, BlueCart
2. Employee scheduling
Along with inventory, you've got to stay on top of staffing. Knowing who should and shouldn't be on your schedule and who's available at any given time is crucial to keep your restaurant running smoothly.
Scheduling apps streamline the process with features that enable employees to input their availability or day-off requests from their own mobile devices, set shift templates so you don't have to keep building from scratch, send schedule alerts via text message and help you easily monitor overtime or swapped shifts.
Scheduling apps: HotSchedules, 7shifts, ZoomShift, Schedulefly
3. Payment processing
Because margins for restaurant profits are often razor thin, it's important to have a reliable point-of-sale (POS) system that makes taking and tracking payments a breeze. While POS systems have been restaurant staples for years, leveraging ones that can also be downloaded and accessed via your smartphone means you can approve payments and check sales numbers no matter where you are.
These days, POS systems can do more than deal with payments—they can generate invoices, manage customer and sales data, send receipts via text or email and sync with your other programs for a more seamless restaurant-managing experience.
Point-of-sale apps: Upserve, Toast, Square, NCR Silver
4. Delivery servicing
Delivery and takeout have been a driving force in restaurant success for years. Despite some contention around how large a percentage some of these apps take from each delivery (some as much as 40%), partnering with third-party delivery services can help restaurants boost sales and turn one-time or sporadic customers into regulars.
From 2015 to 2018, the percentage of people ordering food via smartphone apps more than tripled from 11% to 39%. And it has only gone up since. Internally, delivery apps can save your employees time otherwise spent taking phone orders or delivering meals themselves. Delivery apps can streamline your delivery sales and help ensure you're offering efficient customer service for your takeout orders.
Delivery apps: Postmates, Grubhub, DoorDash, Uber Eats, Seamless
5. Private events management
At some point, when the restaurant industry gets back to something like business as usual, customers will want to hold private events again. Might as well be ready. Whether you have a semi-private space for an intimate gathering or an expansive banquet room, private event programs are a great way for restaurants of all sizes to diversify their income streams. Private events help boost profits and can add an element of predictability when you know in advance how many gatherings you have on your calendar.
Running a program like this in addition to the day-to-day operations of your dining room can be time consuming. A private events app helps keep all event-related details in one place, from date requests and an events calendar to internal communications and special menu templates. Plus, the advantage of having this app on your phone means you can quickly respond to inquiries and confirm a party quickly.
Private event apps: Tripleseat, Caterease, Total Party Planner
By leveraging these popular restaurant management apps, you can take advantage of the technology and automation to boost the communication, organization and efficiency needed to run your restaurant successfully.
Product features may have changed and are subject to change.