Hospitality
6 Restaurant Technologies Your Customers Will Love in 2022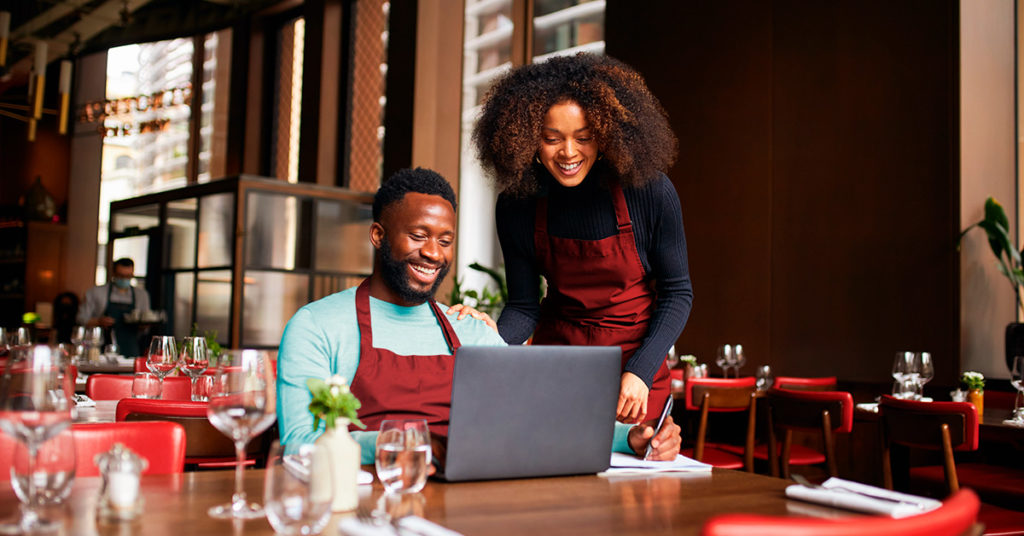 The pandemic has forced many restaurant owners to adapt to new ways of doing business. Ready for the good news? While you've been busy changing, smart minds have been at work designing the restaurant technology solutions that will minimize your headaches and maximize your revenue going forward.
From IoT devices that slash food waste to software that streamlines deliveries, there's a wide range of restaurant technology that runs largely behind the scenes to help improve workflow, better monitor inventory and manage customers.
Your customers likely won't know there's a new IoT monitoring device in the freezer or new scheduling software on your computer. All they'll know is that when they come to your restaurant, they'll get A+ service, plenty of payment options, a fresh meal and a safe experience.
6 tech, software and IoT solutions for restaurants
1. Sanitation technology
New cleaning technology can address your needs.
Look into software like VirusSAFE Pro, which gives you the heads-up on food safety protocols in your area.
For device solutions, turn to resources like Ava Robotics, providing surface- and air-cleaning technology that learns over time the best ways to keep your place clean and deliver reports on it. Other restaurants have turned to UV light solutions to stay sanitized. Another way to clear the air? Put IoT-enabled air purification into your HVAC system. It's a sizable investment, but a smart one for any restaurant that knows their customer base feels wary about returning to in-person dining.
2. Contactless payment options
Every customer is different, and it's now easier than you may realize to offer all of them a wide variety of ways to pay.
A system like Venmo provides an easy way to set up a business profile, especially if you're a restaurant or café that offers customers quick, on-the-go eats.
Also, make sure you're running the latest version of your POS system. It shouldn't just function as a cash register anymore. Implement one like Upserve, Toast, Square or NCR Aloha. Along with generating invoices, syncing with delivery platforms and optimizing scheduling, these systems can make sure that customers can pay quickly by tapping their card, forking over cash or anything in between.
3. Digital display systems
Ditch the scribbled fridge notes and the shouts across a busy kitchen. Instead, keep all your information on an easy-to-read, fully customizable, up-to-date digital kitchen display system. Known as a KDS, this white board of the future gives every single employee a central place to estimate prep and cook times, flag dietary requests, prioritize and sync orders and optimize fulfillment times.
4. Customer experience technology
With customers dining in again, check out a few of these services to keep them seated (and ordering more!) for longer:
Charging station – Companies like KwikBoost, YupCharge and Battever sell affordable, unobtrusive charging stations you can easily place at each table or countertop. Customers might just want to stick around long enough to give their phone some juice and order another cocktail.
QR codes – By using QR codes that route customers directly to a menu and payment page, they can linger for hours and keep adding on to their order without bogging down your staff for every request.
Fast Wi-Fi – Not every office has opened back up, and many people are desperate for a change of scenery rather than working from home. If fiber internet is available in your area, consider offering it to patrons who will enjoy your speedy connection and delicious offerings throughout their workday.
5. VR workplace training for restaurants
Virtual reality isn't the future—it's here. VR tech is a far more affordable and effective workplace training technology than most people realize.
Companies like Grasp have designed VR and AR (augmented reality) technology specifically to train restaurant employees. By simply slipping into a sleek headset, employees can take their own time to learn via a vast assortment of immersive training scenarios.
There are tons of benefits to VR training. For one, immersive learning experiences boost retention rates. Additionally, for restaurants in particular, you get to train employees in scenarios ranging from food prep to customer service without wasting food or irking customers. Plus, analytics from the training sessions highlights any training weaknesses and allows you to better evaluate where each employee would be a great fit.
6. Inventory management software for restaurants
It's about time you left inventory management to the tech pros. Software like Toast and MarketMan keep track of all your orders and deliveries, no matter how many vendors you work with. On an intuitive dashboard, you'll get recommendations on minimizing waste, notifications on last-minute changes and forecasting data that helps you better plan for supply chain shortages. Plus, you can instantly share all this data with your staff, making sure your entire team knows what to upsell and what to leave off the specials board on any given night.
Before committing to any new tech solution, do yourself a giant favor: Make sure your current internet connection can handle the added demand. Right now, fiber, if it's available to you, is the only service that delivers the matching upload and download speeds, reliability and speed needed for IoT solutions.
Product features may have changed and are subject to change.