Retail
6 Tips for Maintaining E-Commerce Growth Beyond the Pandemic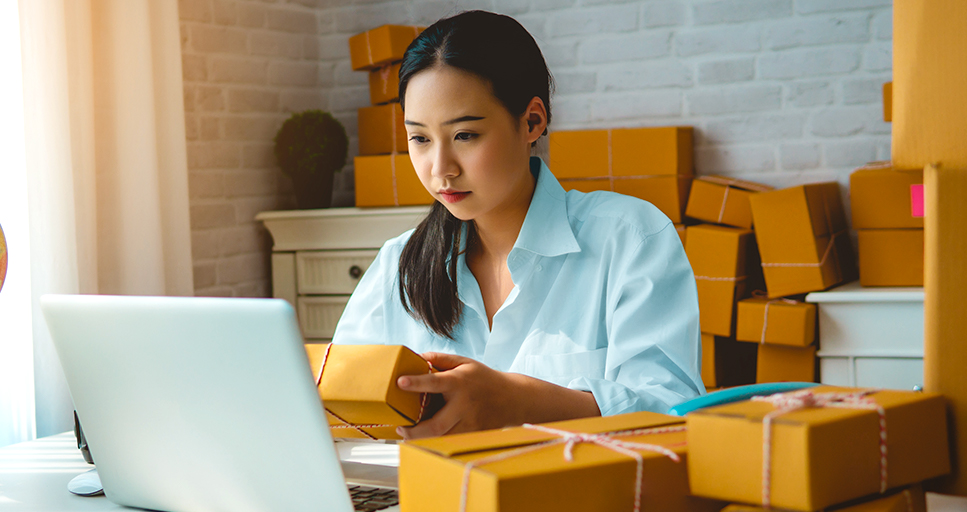 With the rapid rise of online shopping during the pandemic, your business may have been forced to quickly pivot to more of an e-commerce model than you ever had before.
Shopping online is here to stay—for you and your customers. There are several ways you can boost your online retail presence to increase revenue and improve your customer experience for shoppers both old and new.
These six e-commerce strategies for small businesses will help your business thrive in our increasingly digital world.
1. Focus on convenience, especially when it comes to digital payments
Going forward, consumers are going to demand a level of convenience from online shopping that you may not have focused on during a quick adjustment to e-commerce. Improve conversion rates by making sure your customers aren't abandoning carts when your site is too slow to load, or when they have to jump through too many hoops just to order something from your online store.
If you're already using an e-commerce platform like Shopify or Squarespace, consider integrating them with Apple Pay or Google Pay so that online shoppers can buy anything off your site with one or two clicks. If you're using PayPal or Braintree, online shoppers can now pay directly via Venmo right from your website. Giving users options is a great way to make sure they go through with a purchase.
Social media and e-commerce payments can also go hand in hand. If you're selling products that can be displayed via Instagram, make sure you're set up with Instagram Shopping. The platform allows social media scrollers to check out without clicking away from the site, helping increase sales from impulse shoppers.
2. Update your mobile experience
Mobile commerce, also known as m-commerce, is one of your biggest opportunities for online sales growth. It's the natural next step from e-commerce, but not all e-comm platforms are optimized for mobile. Make sure it's as easy for your customers to buy via their phone as it is for them to check out on their computer.
Many existing e-commerce platforms, including Wix, WooCommerce, Shopify and Squarespace, are improving their offerings to make sure your mobile store is just as sleek and efficient as your website. You can also go the extra mile and build your own branded app with services like Appy Pie or Bizness Apps. This allows you to make sure your system is optimized for mobile users, send them personalized notifications and collect important sales data that can help you improve your overall operations.
And always include security when it comes to e- and m-commerce. Invest in data protection systems that keep information as safe as possible, and let your customers know that you prioritize cybersecurity.
3. Be smart about your strongest platforms
Any platform can drive e-commerce sales. But don't be tempted to try your hand at all of them in an effort to see what sticks. Yes, TikTok is hot right now, but if your target customer base has no idea what TikTok is, it might be better to stay off the platform than have a paltry, inauthentic presence there.
Think about the online places that influence your target customer base. If you're not sure where that might be, ask them, either through an online survey or when they visit your store. Maybe it's a big platform like Instagram; maybe it's a smaller one like a niche Facebook group for hobbyists in your area. No matter the platform, work to organically build out your presence on it. If you're going to invest in marketing using tactics like targeted ads, figure out the best way to do it on that preferred platform rather than a strategy that's too generalized.
This effort will help make you the authority in your industry and build brand recognition that drives e-commerce growth among a sea of competitors.
4. Make it easier for your customers to find what they're looking for
In the rush to get some of your products online, it's possible you listed them on your e-commerce website without much order or search function. This is a huge deterrent for customers—you may have exactly what they're looking for, but if they have to scroll too long for it, they might just give up and look elsewhere.
It's likely that the platform you're using has tools that allow you to tag products in several different ways, so they're easily searchable for users. Create all kinds of filters for your items, letting users search for products via categories like price or color. Additionally, make sure if they type something specific into your search bar, like "blue shirt," an item is tagged appropriately enough that the right results will be presented to them.
This is all possible on platforms like Shopify, Squarespace and Wix. Within your platform, just look for support topics like "adding filters" or "adding sorting features" to your products.
5. Get personal
It's not just online retail giants like Amazon that can drive sales with personalized recommendations. Check out e-commerce personalization software services for small businesses like ActiveCampaign, Clerk.io or Moosend.
These programs help you design e-commerce marketing strategies based on your individual customers. You'll be able to send hyper-targeted emails, texts or chats that entice shoppers with offers the software knows they'll find enticing. Letting your customers know you've got just what they want can be even more effective than more generic emails offering a sale or special deal.
6. Merge the best of both worlds
The rise of e-commerce and m-commerce won't kill in-person shopping completely. With businesses open again, you'll want to find ways to merge the convenience of shopping online with the pleasure of browsing in your business.
It's a strategy known as "click and mortar." For instance, maybe you offer in-store pickups for online orders, allowing customers to click "buy" whenever it's convenient for them, but still get to pop into your store (and maybe impulse-buy something there!).
This integration is easy to do with payment options like Shopify, which offers an online checkout platform as well as POS system you can use at your brick-and-mortar location.
With these manageable steps, you can make sure your e-commerce is ready for a post-pandemic future.
Product features may have changed and are subject to change.