Today's televisions use a wide range of technologies that are put to use in a variety of different settings: bars, restaurants, salons, medical office waiting rooms, auto repair shops, car dealerships and gyms. Knowing what to look for when you walk into a store or start your search online can help you buy the best TV for your money, with everything you need.
Here are some tips to keep in mind when making your next television purchase.
1. Shop in person, even if you buy somewhere else
Whether you plan to buy online or in-store, if you can, try to see the TV in person before you purchase. Going to the store allows you to see the picture quality, and it can also help you imagine what the TV will look like in your office or place of business. The 32-inch TV you had your eye on may look smaller than you think, and perhaps the curved TV is a little too curved for your viewing angle.
Viewing TVs in person will also help you determine if you're willing to pay extra for something like an OLED TV. You'll be able to compare the picture quality right next to a standard LED display and decide if the difference is meaningful enough for you to spend the extra cash.
2. Know the terminology for different types of TVs
You've heard terms like high definition (HD) and ultra high definition (UHD), but you're not alone if you can't explain what makes one of those "ultra" while the other one is just "normal." Here's more about the meaning behind some common TV terminology.
Liquid Crystal Display (LCD)
Almost every TV on the market today (with the exception of OLED, discussed below) uses LCD technology. It used to be that you chose between an LCD display and a plasma display, but over the past half-decade, plasma technology has been phased out of consumer displays in favor of LCD, which requires less space and produces less heat. Since LCD is the standard, you won't see TVs advertised as LCD, but if you're buying a new TV, it's very likely an LCD.
Light-Emitting Diode (LED)
Like LCD, LED is another standard technology in consumer televisions. LEDs provide the backlighting for the LCD display—they make it bright. Unless you buy an OLED TV, you're buying an LED TV.
Quantum Dot Light-Emitting Diode (QLED)
QLED is simply an improved version of LED. Don't worry about understanding "quantum dots" — just know that it provides slightly improved color and contrast, as well as a wider viewing angle.
Organic Light Emitting Diode (OLED)
Where most TVs use LEDs to backlight, or illuminate, a cluster of pixels on an LCD display, an OLED TV eliminates the need for a backlight. Each pixel on the display can illuminate itself individually, providing superior image quality, more realistic color reproduction, lower energy consumption and a slimmer profile. On the flip side, OLED TVs are priced at a premium, and they aren't as bright as LED and QLED displays. If you are going to place the TV in a room that gets a lot of sun during your business hours, OLED may not be the best choice for you.
High Dynamic Range (HDR)
High dynamic range refers to the quality of the pixels in the TV rather than the quantity. These pixels are capable of producing the brightest possible whites and the darkest possible blacks with more colors in between. The image will never look washed out, and you'll see every detail clearly.
Ultra High Definition (UHD) and 4K
When it comes to consumer displays, UHD typically means that the resolution is 4K (the best you can get without spending thousands and thousands of dollars). Where an HD, or High Definition TV may have 1920 pixels along the length of the display, a 4K UHD display would have twice that amount within the same space, producing a visually stunning image.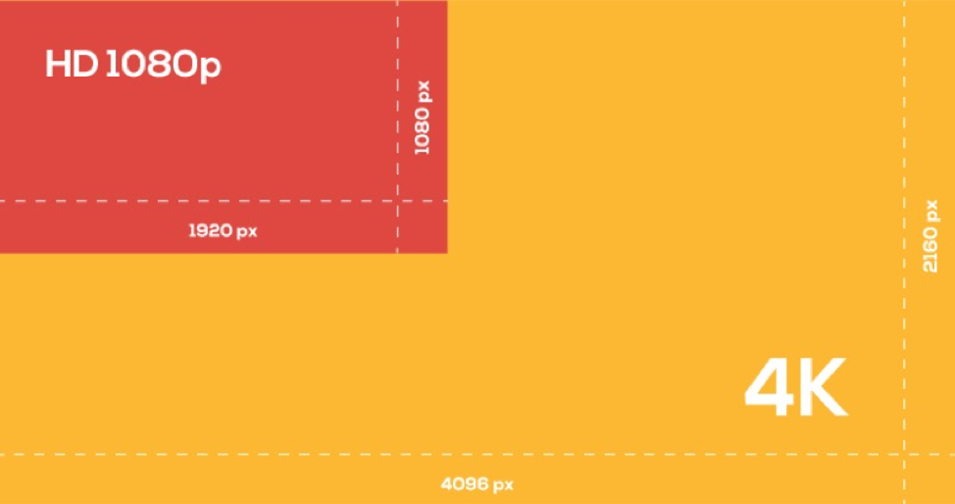 3. Choose 4K to future-proof, but know the limitations
4K television screens have about 8 million pixels, which is the equivalent of four standard 1080p HD TVs. All these pixels create an intensely sharp image, making it a singular viewing experience. The real difference can be better appreciated the closer a person sits to the TV. If your viewers get close to an older TV, they can see individual pixels, meaning that the image will become more pixelated and less sharp.
Here's the catch: In order to truly appreciate the image quality of a 4K TV, you must have a 4K signal. If you're investing in a TV that you plan to use for your business for years to come, you should consider 4K, but it's important to understand that most movies and television shows aren't yet available in 4K resolution.
Some service providers, such as Netflix and Amazon, are optimizing some of their content for 4K televisions, but you'll still need to have a streaming device that supports 4K playback and a fast (at least 25 megabits per second) internet connection. If your connection isn't that fast, Ultra HD Blu-ray™ is also formatted for display on 4K TV. You'll need a 4K Blu-ray™ player to get this viewing experience.
4. Find the best location for your setup
It's important to determine where to place the TV in your business setting before making decisions about the television size.
First, measure the distance between the viewing area and where the TV will hang or stand. RTINGS.com provides a fantastic tool for choosing a TV size based on the distance between the viewing area and the TV. If you're curious about the science, this tool is based upon the idea that a TV provides the best experience and picture quality when it fills between 30% to 40% of your field of view.
You'll need to determine where to mount the TV based upon what kind of business you run. If you have a gym, you'll likely want to mount the TV high above your customers' heads so more people can see it. If you have an office waiting room, you can use a traditional wall-mounted TV.
Once you find the recommended TV size for the distance between your viewing area and your TV, you should check to make sure that it won't look too big or too small on your wall. Grab some masking tape and a tape measure. Cut four strips of tape: two should be the length of the long edge of the TV, and two should be the height of the short edge. Create your rectangle with tape in the same place you'll put the TV and you'll get a good sense of how much visual space it takes up.
If you are mounting multiple televisions or mounting a TV from the ceiling, it may be a good idea to bring in a local contractor to help with the project. You can hire a professional using a task app like HomeAdvisor.
5. Work with your provider
Determine what channels you'll need for your business, and work with your TV provider to find a content package that is right for your customers. Availability and pricing of TV packages vary by location and provider. Look for low- or no-contract options that allow you to avoid cancellation fees if you find yourself moving your business to a new location.
Many providers also have custom TV packages, so you don't pay for channels your customers don't watch. If you want your reception room TV to tune in to news channels or sports updates, you can choose a package that includes those channels, but doesn't include movies or comedy shows. Packages your provider offers are grouped by public and private viewing.
Keep in mind that some providers may require your business to have a router or other additional equipment for your TV package. These costs can add up quickly, so call your provider before committing to determine the total price for your TV package.
6. Shop at the right time
As with many things in life, saving money when buying your new TV comes down to timing. You probably know that some of the best TV deals are available on Black Friday and Cyber Monday, but you may not know that during the course of one year, the price of the same TV can go from $1,100 to $700. If you wait to buy a new TV model at least one year after it's released (usually in the spring), you are certain to save. New TV models will be making their way to stores, and retailers will be looking to sell existing stock with deep discounts.
Once you've selected your new TV, get ready to give your customers and your employees a whole new reason to like working with you.