Insights
E-commerce Helped This Family Farm Thrive
Nathan Vannette wasn't sure how Growing Green Family Farms would make it through 2020. Most of their business came from supplying nearby restaurants in upstate South Carolina, hit hard by the pandemic.
And restaurants were good, consistent customers, making up 85% of the farm's sales.
"Within a two-week period, 85% of our business model had shrunk down to about 7%," Vannette remembers, and the farm's total sales had dropped 73%.
Taking a break while the pandemic ran its course was not an option. "We had crops already planted for these chefs," he says. And every passing day brought the Vannette Family closer to harvest time.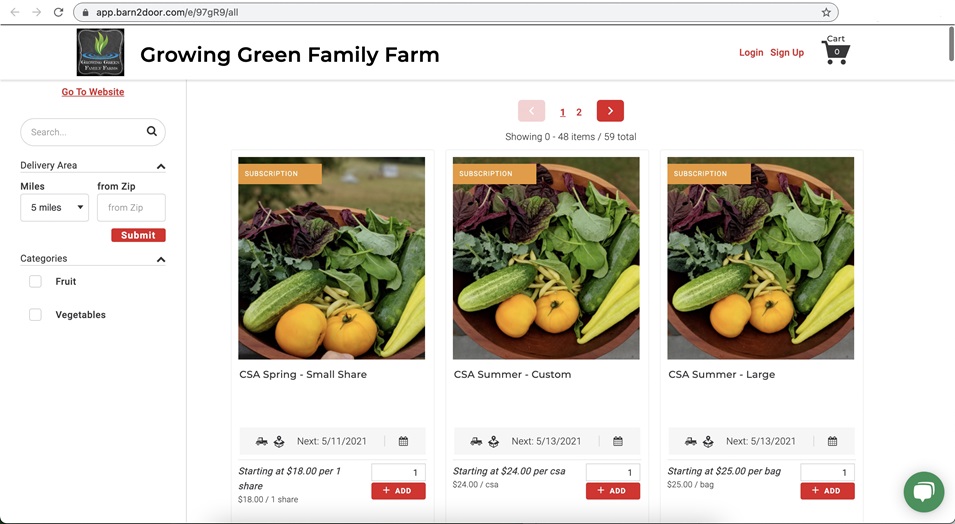 Pivoting from restaurants to home kitchens
The sudden drop in business was devastating to Vannette's successful farm. In 2019, Growing Green's pesticide-free produce was a first choice of restaurant chefs in and around Greenville, South Carolina.
With the farm's future in doubt, Vannette remembered the e-commerce platform Barn2Door. Like Squarespace for farmers, Barn2Door helps businesses like Growing Green launch online storefronts to sell their goods directly to consumers.
"We had actually started with Barn2Door, thankfully, just before Covid-19," says Vannette, "to better tell our story to chefs." But it wasn't until those chefs stopped buying that Growing Green realized the true power of the platform.
"We saw the Barn2Door app as a perfect opportunity to put everything online and reach new people," Vannette explains. Restaurants could be closed. Farmers' markets could be empty. But customers could still access an online store from the comfort and safety of home.
And they did. "Our CSA model literally quadrupled within the first month of Covid, which was faster growth than we've ever seen before," Vannette recounts. CSA, or community-supported agriculture, refers to consumers subscribing to a farm's harvest. They sign up and commit to paying for a full season of produce and receive a share every week. Today, a customer in upstate South Carolina can order a recurring box of selected salad greens, edible flowers, an herbal drink and more for just $18 per week.
The process is simple. The team at Growing Green uploads a photo, sets a price and writes a description for a product. Local customers add it to their carts and purchase it through Barn2Door's secure online payment system. Then, Growing Green delivers the goods.
Growing Green has offered delivery since the beginning of the pandemic. "It's a cost on our side, especially taking time out of the field," Vannette acknowledges. "But at the heart of our farm, we don't necessarily want to just be for profit. We want to be community-oriented."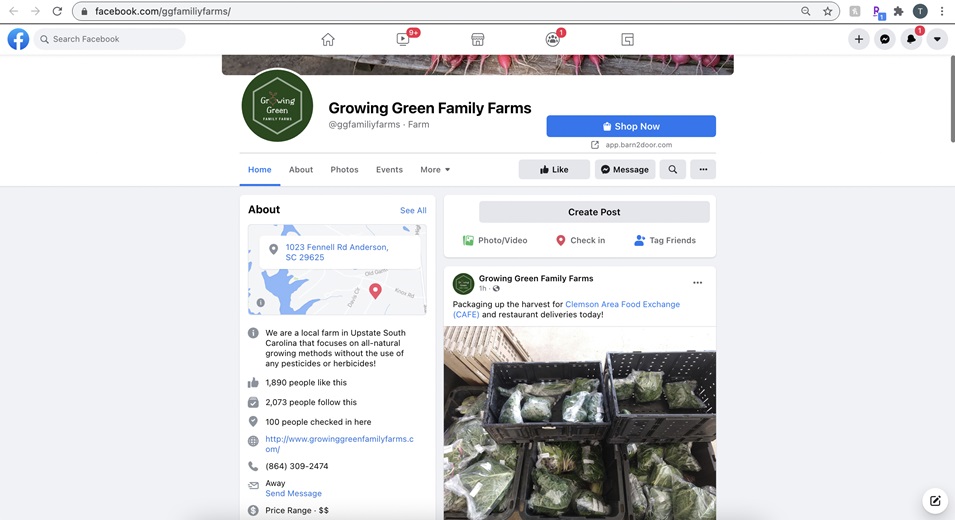 New communications via social media
Growing Green established a new connection with the community the only way they could—online. Barn2Door helped make that happen, too. The platform offers Facebook and Instagram integration, plus email newsletter capabilities, along with a ready-made website template.
Growing Green has also made ample use of social media on both Instagram and Facebook, where frequent postings of colorful photos from the field share moments from farm life. In one post, a snake rests among rows of leafy greens—"Rodent control arriving for work!" reads the caption. In another, dozens of freshly harvested radishes glow brilliant red.
On Growing Green's website, users are greeted with the colorful visual array of beets and greens from the farm. A blog includes recipes for everything from kale chips ("try not to devour them all in one sitting!") to kohlrabi ("hard to resist such a funky-looking vegetable").
"Our society has been disconnected with where their food comes from, so we try to give people a glimpse of the life of a farmer," says Vannette. "We hope that our customers will then be inspired [to] believe in the product that we're growing."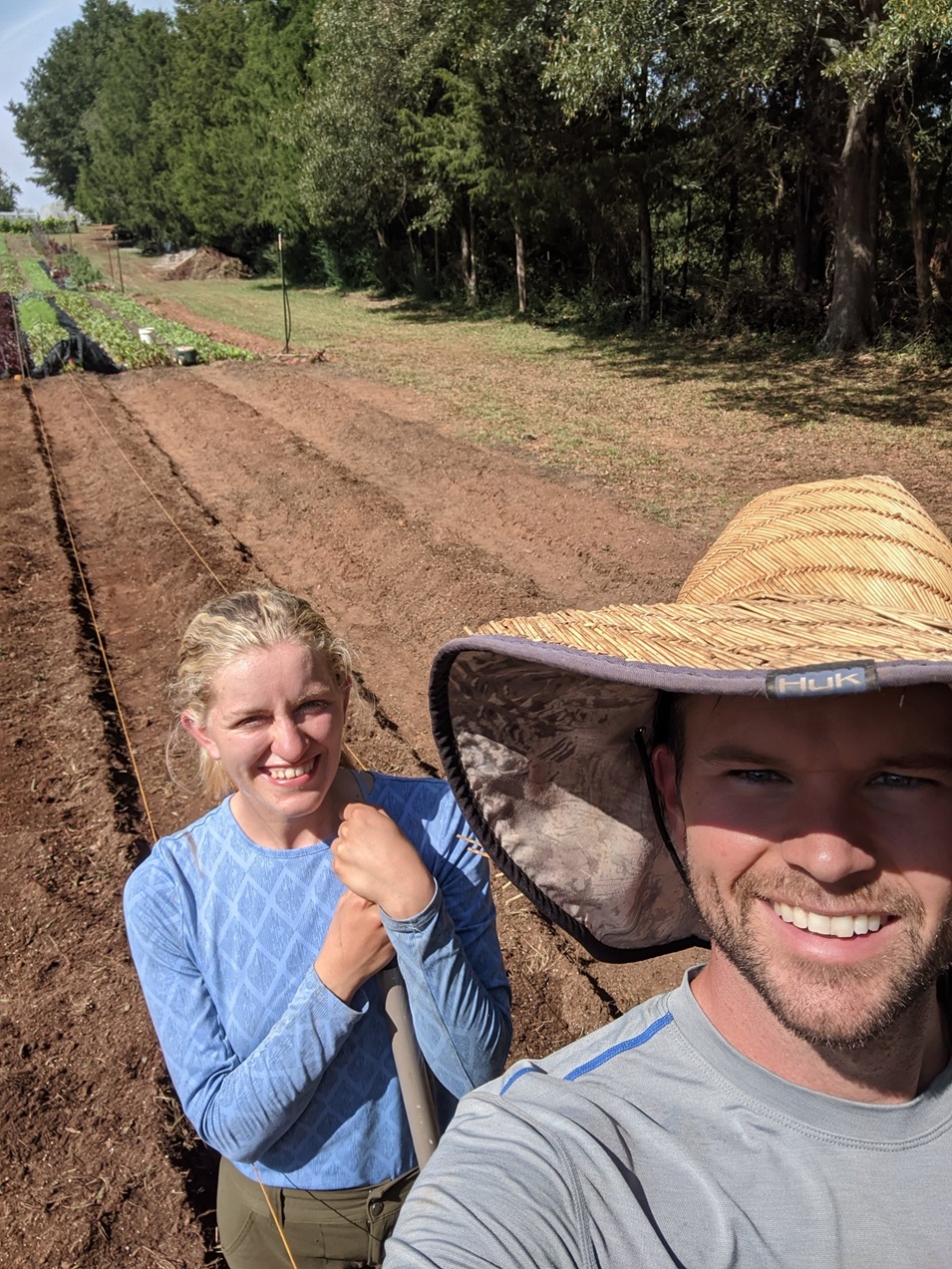 A changed business model ready for the future
This whole new world and new base of loyal customers seems to be working. "Best salad blends ever: seriously," writes one customer. "Great produce and sweet folks!" writes another.
Direct-to-consumer sales are still going strong. And as restaurants reopen, sales from local chefs are picking up again. Total sales in March 2021 were actually higher than in March 2020. "Right now, we're actually looking to hire another four individuals to join our farm," Vannette says.
One year ago, Growing Green Family Farms worried the crops they'd planted would rot in the ground, unsold. Today, the farm is ready to grow even more.
Product features may have changed and are subject to change.