Outwardly, your business looks pretty busy to your customers, and behind the scenes you've got a whole infrastructure you have to keep running, too. Accounting, supply chain, project management, delivery, customer relationship management (CRM), marketing, payroll. It all adds up in time, people and money.
Small business owners have taken a lesson from larger companies and moved key functions to cloud computing. Without undertaking costly custom-designed software or an expensive IT support staff, you can find a wide array of affordable, well-designed, comprehensive cloud solutions just right for you and your business.
Cloud computing 101
Cloud computing is simply working with internet-based software to collaborate, share and store work-related tasks. Information and data are important assets, and you need to keep that information in a secure place. Your physical computers can break down, and you need to have tech support on call to deal with problems, thus driving up operating costs.
You have two options: a public cloud or a private cloud. A public cloud is a configuration of services offered by providers over the public internet (see the examples below). They may be free or on demand, so you only have to pay for the access, storage or bandwidth. This is probably the best and least expensive option for your small business, as the cloud service provider is responsible for all of the management, maintenance and security of the system. There are security concerns with the public cloud, but if the provider uses good security methods like intrusion detection and prevention systems, your information should stay private.
A private cloud is an internet-based solution, but accessible only on a private network to selected users. Private clouds deliver a high level of customization, with security and privacy through expensive company firewalls and internal hosting. One major drawback: You'll need to have an IT department to set up and manage the private cloud, incurring costly management, staffing and maintenance expenses.
These days, high-quality cloud software solutions are available via the public cloud. Cloud storage can save a small business affected by computer theft or other disasters.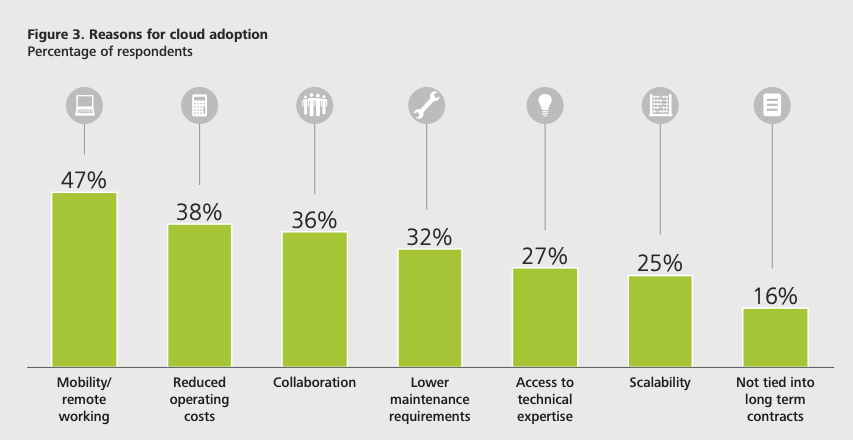 Save time and money in the cloud
Control your capital. You don't have to invest in custom software, you don't need an IT team and you don't need to increase your hard drives to store more data because you're working in the cloud. Cloud-based applications, with monthly usage fees, are far less costly than downloadable desktop software.
Automate functions. Cloud solutions for tax software, CRM, storage, payroll software and even workflow management help your business run efficiently and faster, without dedicating personnel. What's more, they are updated automatically so no one on your team will have to spend time doing it.
Collaborate remotely. According to a survey from Deloitte, 47% of responding small business owners adopted cloud computing to improve their ability to work remotely and on the go. If your business can do it, working offsite will save your employees money. For you, there's a reduction in hard costs and an increase in productivity.
Getting started
Starting to get into cloud computing is easy: just pick a service. Whether it's cloud storage, backup software, workflow software or CRM, there's a solution in the cloud for your business.
Let's say you want to update your payroll and take it from offline records, which can be lost or destroyed, to secure cloud storage. The financial software you already use for your tax preparation or budgeting may have an option for taking care of your payroll in the cloud, so you just have to opt in.
Affordable options to explore
Amazon Web Services (AWS) – Amazon offers incredibly powerful apps that can help your business. From Alexa for Business to Amazon WorkDocs, you can find the application that suits your small business needs. Of particular interest is Amazon Honeycode, which is still in beta. It allows you to build mobile and web applications without knowing how to write code.
Google Workspace – Google advertises it as "Everything you need to get anything done, now in one place." Formerly known as G Suite, this service offers collaboration tools like email, messenger, shareable documents, spreadsheets, forms and more. A variety of pricing plans are available to meet your small business needs.
Rackspace – A U.S.-based cloud computing company with offices around the world, Rackspace offers affordable web-hosting services and email for small businesses.
Slack – The king of collaborative software, Slack has an intuitive user interface, video call functionality and impressive security features. It's incredibly effective for fostering collaboration across teams of people in small business settings.
Dropbox – The original cloud storage application, Dropbox has expanded with collaboration tools and team management software. Dropbox Business makes it easy for employees to share files and folders, edit documents together and provide feedback in real time.
Cloud computing may sound futuristic and perhaps a bit daunting, but it's just a way for you to reduce costs and hassle when it comes to running your small business effectively. All you need is a good, stable internet connection and a desire to save money and time. If you find you need more bandwidth, get in touch with your internet service provider to talk about options.
Product features may have changed and are subject to change.