Insights
How the Recipe for Success Changed to E-Commerce for This Pie Company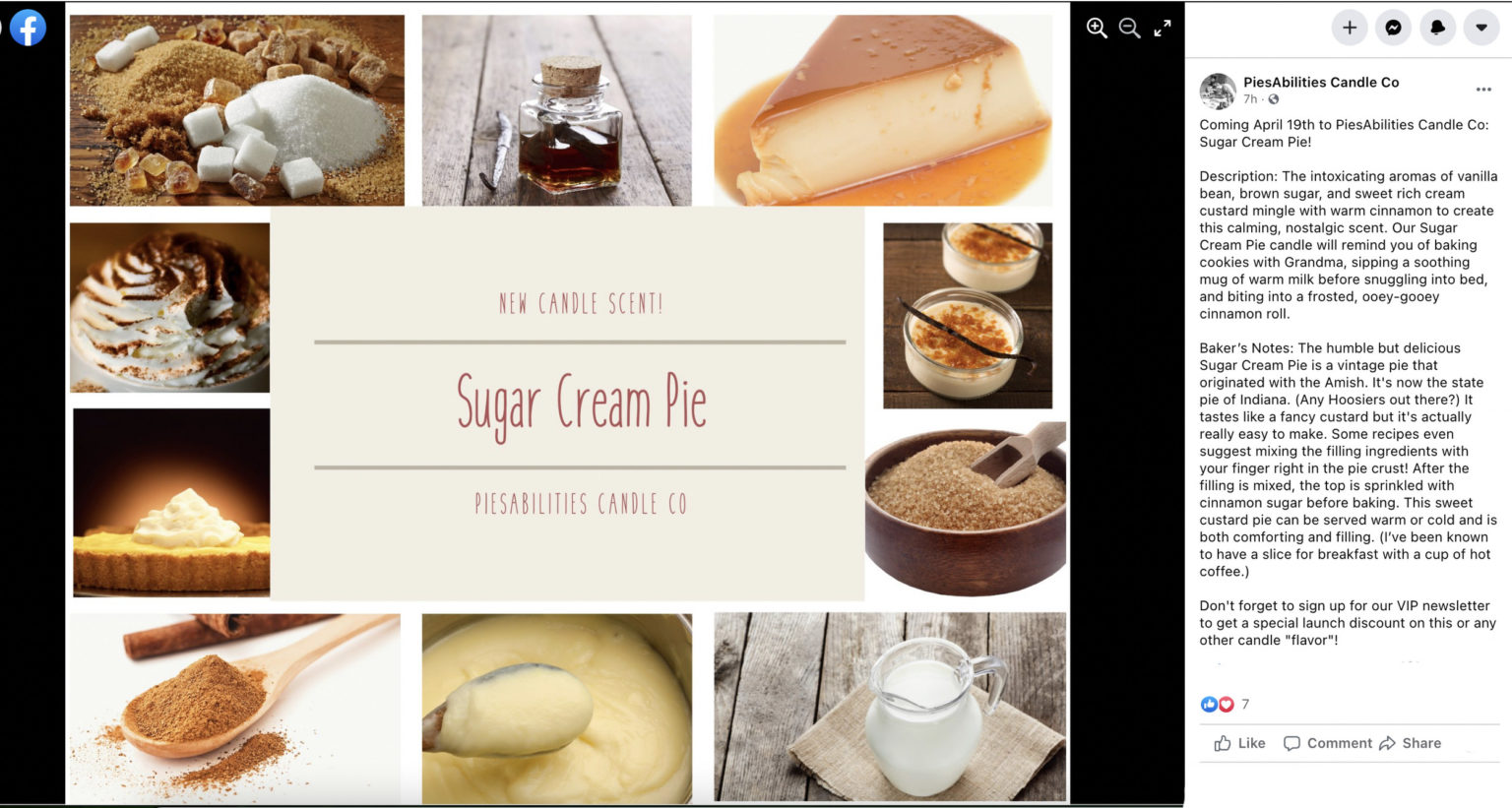 In January 2020, PiesAbilities launched as a small bakery with a mission to hire adults with disabilities. Inspired by her young daughter, who has a disability, founder Jennifer Dempsey of Gainesville, FL, sold pies at farmers' markets and supplied corporate events and weddings through a simple website.

When the pandemic hit just three months later, Dempsey transformed the bakery into PiesAbilities Candle Co, a 100% e-commerce business selling all-natural soy candles and wax melts in the scents of the company's beloved pies. It donates 5% of every candle sold to organizations that support people with disabilities. They count on candles with scents like Key Lime Mojito, Pineapple Sage and Sugar Cream to entice customers.
Keeping the customer experience online
Although her business was built on in-person interaction, Dempsey found a way to bring both new and existing customers their favorite pies in reimagined ways. By tapping into the e-commerce world, she also provided a safety net for her family and clients.
"The best thing about e-commerce is that I didn't necessarily need to be physically present with a customer," she explains. "It worked great for pandemic purposes."
Dempsey's husband, Michael, is a programmer and helped create the new site using WordPress. To add e-commerce capabilities like payments, they added a WooCommerce extension, a customizable open-source plugin designed specifically for WordPress sites.
"We're slowly adding in different plugins and extensions," Dempsey explains. "As the business grows, we'll probably add in more." They recently added an extension that will allow customers to buy three candles and get one free.
A simple buying process is baked in
For Dempsey, a simple website is key to success. "It's pretty straightforward as far as an e-commerce site," she says. "The fundamental part of website design is being clear and easy to navigate. Don't make people try to figure out how they're supposed to shop or get information." So the new site lists all of the products and descriptions, supported by quick links to an FAQ section and a candle care landing page.
For launch, they turned to social media to get the word out. "I'm very active on social," Dempsey says. Rather than using marketing campaigns, they simply spread the news through traditional social posts, for example, promoting a special PiesAbilities Candle Co VIP Club with member discounts.
Combining e-commerce with positivity
For other businesses who are thinking of pivoting to e-commerce, or reshaping their products or services, Dempsey says taking a step back—and pulling in outsiders—is essential for perspective. "I think if I had been too emotionally connected to the [original] idea, I wouldn't have seen the potential and opportunities out there to pivot," she says.
With PiesAbilities stemming from "possibilities," Dempsey believes sticking to that mindset helped her find a new direction for her pie business—and it can help other small businesses, too.
"We really try to be positive and possibility thinkers," she says. "I know that sounds hokey, but just think about how you might take your business and make it fit in the new world."
Website features may have changed and are subject to change.