Growth
How To Grow Your Business by Partnering With Other Local Small Businesses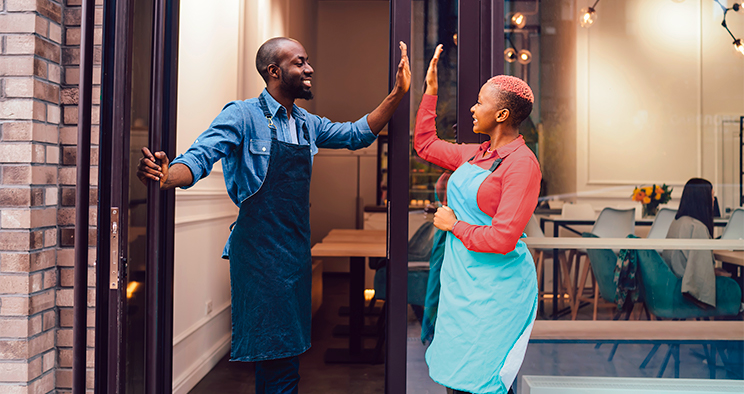 More resources. More connections. More ideas. That's what you need to make more of your business. One place you could find all of these is in partnerships with other smart, motivated, connected small businesses in your area. Check out this guide to making it work.
What are the benefits of partnering with a small business in my area?
Local strategic partnerships can help you save money, draw new customers and boost business. Consider the possibilities:
Attracting new customers. Cross promotion is a super cost-effective way to bring in new business. Not only does a partnership help you expand your reach to a new set of customers, but your message will come with a stamp of approval from a business those customers already trust.
Sharing resources. Maybe you have underutilized resources like space for events, a big kitchen or a delivery van. See if you can collaborate with a small business who needs those and can offer something beneficial to you in return.
Helping your community. Consider partnerships with a local nonprofit or charitable organization. For instance, maybe one weekend you run a special at your retail store—for every sweatshirt you sell, you'll donate one to a nearby shelter. The collaboration can both help your community and draw new customers who are eager to do the same. Plus, the move can help boost loyalty among consumers who love knowing their purchases are doing good.
What are some business collaboration ideas?
Partnership possibilities are endless when you get creative. Start by thinking about the kind of customer you'd love to attract, but are having trouble reaching. This is the makings of a referral marketing partnership.
For instance, maybe you have a sports bar that's packed on Sundays for football, but you'd love to bring in more soccer fans. You could reach out to a sporting goods store in your area—when people come in and buy soccer gear, they could get a coupon for a free appetizer at your place during the next big match.
Think about how you can combine resources. Perhaps you've always wanted to have a pop-up shop where you could sell more high-end items than your retail store typically carries, but you didn't know if the investment in a space and inventory would be worth it. Combine resources with a local chef who wants to do a gourmet coffee and desserts pop-up! You can split the cost of space, get more people through the door than you would if your pop-up had fewer offerings and encourage people to spend more time browsing and enjoying what both of you have to offer.
What are tips for creating a strong partnership with another small business?
You don't have to jump into any relationship that doesn't feel right. Here are some quick tips on building a lasting, mutually beneficial partnership:
Start simple. Baby steps can help you see how a partnership will evolve without too much upfront investment. Start with an easy ask like guest blog posts on a website. Or for social media collaboration, take over each other's Instagram stories for a day. These are great ways to figure out how businesses might go together without getting in too deep.
Look for complementary partners. You might be friends with a local business owner or think a nearby restaurant has delicious food, but those alone aren't reasons enough to strike a business deal with someone. Think strategically about what you can both offer to help each other thrive—if the collaboration is one-sided or not drawing the business you'd hoped, redirect your efforts to a business with a product or service more complementary to yours.
Clearly define what you want. Be clear on what you want to get out of this relationship—and ask your new partner to do the same. Make sure you state the responsibilities each partner will take on, so neither side feels slighted or that the workload isn't balanced. Any deal can be open to evolution, but it's always smart to make terms as clear as possible right from the beginning.
Put it in writing. This is critical, especially when it comes to anything financial. Even better? Have your attorney look over the deal, too. You always want to make sure you have records in case a partnership goes south.
What digital tools can we use to collaborate?
We live in an era of total connectivity, and a wide variety of digital collaboration tools are available to make any small business partnership more manageable and fruitful. There are a few different areas that may benefit from some of these tools:
When you put some creativity into connectivity, you'll discover how to grow your business with partnerships with others in your area.
Product features may have changed and are subject to change.