Growth
How To Start a Blog and Keep It Going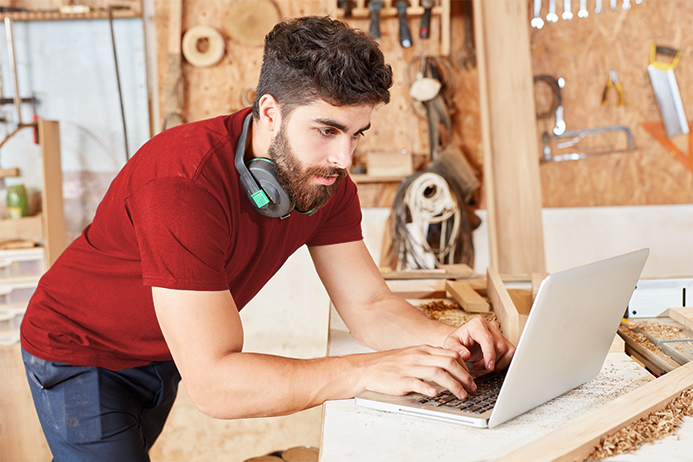 Blogging originally emerged for online journaling, but today the format is used by big brands and small businesses alike to send their messages to the world. If you've been thinking about it, take the time do it right.
Benefits of having a blog
First, a blog drives traffic to your website via search results and provides new content to reference in your other marketing efforts like social and email. Next, it converts visitors into leads and customers by providing more touch points to collect information and drive sales. And finally, it helps establish you as an expert. In fact, according to Oberlo, 60% of buyers surveyed said blogs are helpful in making a purchase decision in the early stages of their search.
Some business owners assume their business is incompatible with blogging, thinking, a general contractor or dentist office has no place posting think pieces! But companies in all industries can benefit from blogging. Good business blogs inform potential customers on things they care about.
Another snag for would-be bloggers is giving away expertise they would otherwise charge for. Indeed, most visitors will never pay you a dime. Some may use your free info to DIY. Using your blog, they swap out the shower head during a bathroom upgrade. But there will be visitors who love your content, like how to re-grout shower tile, and want to pay you to do it for them. And the DIY visitors from before might return later with a more complex situation: They're ready to put in the sink and tile the floors and they want to hire out. Reaching each type of visitor costs only the time to write the post.
Blogging is like advertising that doesn't cost you money and lasts forever. A successful blog attracts visitors, establishes authority and converts visitors to leads and leads to customers.
Six steps to build a business blog
1. Determine your value proposition
Try summarizing your goal(s) in a statement based on what you might write about. A clothing boutique might post about fashion trends, fabrics and lifestyle information, while a family doctor might post tips for staying healthy or decode the latest public health news. These can be summarized in value propositions: "Fancy Boutique's blog helps young executives express their style" and "Dr. Smith's blog helps families make health choices."
When someone trusts you, they're more likely to choose you.
2. Add a blog to your existing website
If you don't have a website, go make your e-commerce website first and we'll wait right here.
Build your blog on the platform you already use for your website and on your existing domain, rather than creating a new website. (A blog's output feeds use a format called XML, which makes it possible to export your blog if your needs change.)
In 2021, most platforms have free templates for attractive business blog pages that require no code. Take a look at these three popular platforms:
3. Plan your content calendar
Now comes the hard part: posting! Try this activity: Write your value proposition across the top of a document, then write a list of questions you commonly get asked in your line of work. Highlight ones that have answers substantial enough to be posts. (Put the remaining ones aside as an idea bank.)
Using ideas for post formats from here and here, plan your intro post plus the next 10 posts in an editorial calendar. Search "editorial calendar templates," build your own in a spreadsheet or use your task management system (like Asana or Trello). You'll want to include article titles, a couple bullet points and publish dates/times. You can start with one or two posts per week and assess, because it's better to do a little bit consistently than to get overwhelmed and stop. A year of posting every other week is still 26 posts!
4. Write your intro post
Your first blog post as a business should introduce your company and the blog. Explain your value proposition and what a reader can expect. Get feedback from employees, friends, family and a trusted customer to spot-check: Does the value prop come across? If yes, post it! As you write more, return to this intro and add in some links to the topics mentioned.
5. Keep generating content your readers love
The number one rule is to create content your website visitors will find useful. Here's how:
Length – Keep posts in the 750–1,500 word range.
Images – Avoid cheesy stock photography. Consider a session with a local photographer or get good stock photo.
Links – Link to other posts (your own and those of other blogs) where appropriate.
SEO – Include keywords people will search. Learn more about search engine optimization (SEO). Don't try to game Google (it's a moving target), but instead, write your posts to help real people.
Writing your own posts is great, but if you're overloaded, consider hiring a ghostwriter or freelancer for your site. Blogging Wizard suggests seeking referrals and posting job ads to find qualified candidates for blog writing.
6. Promote your blog and measure success
Time to promote your blog. Promote each post on social media. If you're still building your social following, consider guest posting elsewhere and having an expert guest post on your blog. Tie an entry into current events. Promote your content to your email list, in your physical location ("sign up for blog updates for a discount") and maybe use Facebook, Instagram or Google ads.
Most business blogs are built over time. Six months is a good mark to start assessing your strategy, according to HubSpot, but some experts say results can take up to a year.
Define blogging success for your small business. It will vary by industry and business model. A business with long sales cycles, like home renovation, will define success differently than one like a hair salon that relies on volume (no pun intended). There are three metrics to keep top of mind:
Should you sell ads on your blog? Generally, you shouldn't. Ads take someone away from your site, have images and experiences you don't control, can be distracting and may not earn much. Seeing an ad for another business on a small business blog can be a turnoff. A better fit might be affiliate links for related products, but be careful: The point of your blog is to generate visitors, leads and customers for your business, not for another one.
Wrapping up
When you're just getting started, your laser focus should be on producing high-quality, value proposition–driven content. If you set your readers up to be successful for the long term, you and your business will be, too.
Product features may have changed and are subject to change.