Growth
How To Use Facebook Live To Promote Your Small Business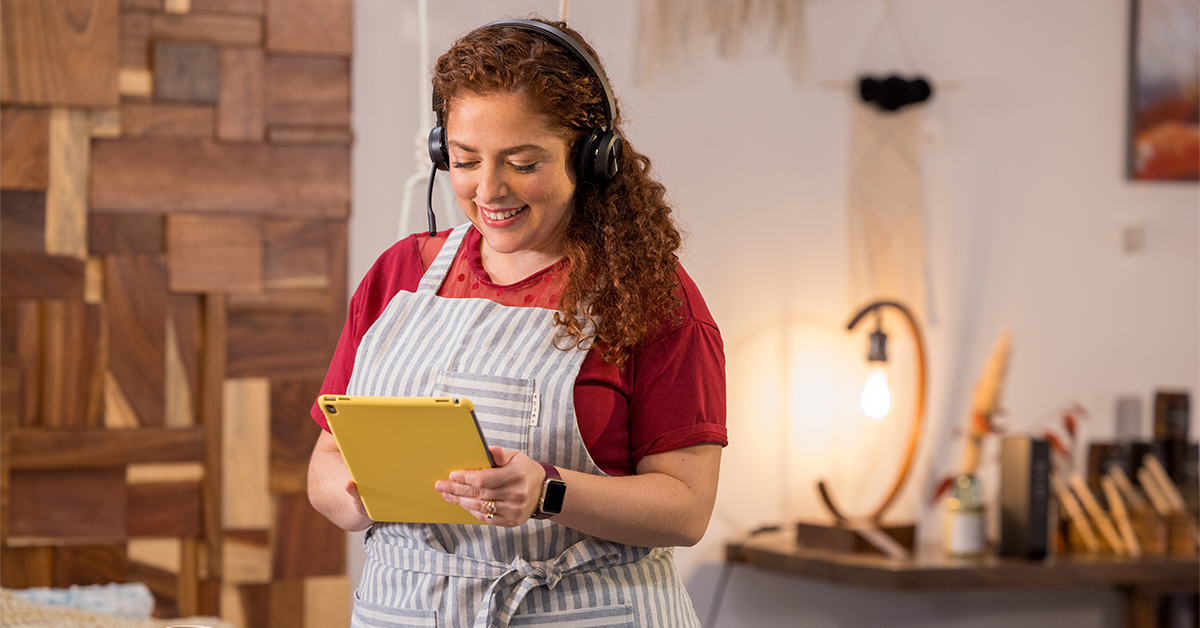 Livestreaming has become an essential tool for enhancing your business' social media presence to both attract new customers and deepen your connection with your existing customers. Facebook Live is a great tool to make it happen. It's simple to promote and broadcast, and it allows you to interact with your customers or followers in real time. They'll see your demo, your story, your class, your interview—anything you want to offer that brings your brand to life.
How does Facebook Live work?
So how do you go live with Facebook Live? You have a few options, but for beginner's sake, let's review livestreaming using the Facebook app on your mobile device or from your computer's webcam.
Livestreaming from the Facebook app
From your business' Facebook page, tap Live in the post composer.
Type a description of your video's topic, including tags to any collaborators. Make it enticing, so you're more likely to catch the attention of scrollers, but avoid anything misleading.
Tap Start Live Video to go live.
When you're done, tap Finish.
Livestreaming from your computer's webcam using Facebook's Live Producer
Facebook's Live Producer offers you the ability to stream from your webcam, monitor the strength of your livestream in real time, then create highlights of your livestream to further promote your content. You can also use Live Producer to embed your video in your business' website, so your content is available in more than one place. You can choose a variety of settings, including closed captioning and messaging options, and create a live poll for your viewers.
Click the Live Video icon in your business profile's status update box. The Live Producer interface will open.
On the left side of the screen, select whether you would like to Go Live Now or Schedule a Live Video for a future time and date.
Select whether you're broadcasting to a Page, Group, Event or your profile timeline.
Select Audience Settings to define Age Restrictions and Geographic Gating. For a specific broadcast, you can restrict the age of the audience under the Minimum Age drop-down. You can restrict, or geo-gate, your broadcast to specific locations by selecting Allow selected locations. Here, you can search and add locations (country, state, city, etc.) to include.
Add a Title and Description to your post. You can also use this area to tag collaborators.
In the Get Started section on the right side of the screen, select Use Camera.
In the Setup section, check that you have the correct camera and microphone sources configured.
If you want to share your computer screen, select Start Screen Share under Setup.
Check your internet connection before going live and make any necessary adjustments to your settings.
Click the Go Live button in the lower left side of the screen.
When you're done, click End Live Video.
Once you end the livestream, you can choose either to save it to your feed or delete it. If you're saving it and embedding your new video on your website, you'll see an option to make edits to your post's description or thumbnail.
How do I get started?
First, you need an idea and a plan. How do you intend to use Facebook Live? Will you teach something important about your business or industry to your customers? Maybe you'd like to perform a musical set or teach a workout class. Do you want to debut new merchandise or do a live sale? Perhaps a cooking demonstration using some of the kitchen tools you sell would be a good fit. Or to promote your hair salon, you could demonstrate the perfect at-home blowout.
If you can dream it, you can do it. Keep a few things in mind to create content your customers can connect to and enjoy.
5 tips for Facebook Live success
1. Make sure your internet supports smooth livestreaming. Test out your broadband service before your broadcast to the world. Fiber, if you can get it, is a great choice as upload speeds are practically equal to download speeds.
2. Know and build your audience. Use the platform as an opportunity to get to know your customers. Learn the names of your regular viewers and commenters. Answer as many questions as possible in your livestream. Use viewer feedback and live polls to gauge viewers' interest and what they'd like to see from you next.
Keep in mind that Facebook prioritizes videos longer than three minutes to encourage people to keep watching. Having a plan to make lengthier videos that maintain viewer engagement increases the likelihood that people will discover your video and share it.
3. Have a structure, but don't overproduce. The best Facebook Live content feels organic, and nothing says inorganic like a tightly scripted video. Instead, plan and rehearse and stick to your agenda to keep on track.
Set a schedule for regular livestreams and stick to it. Use Facebook Live Producer to schedule future events and invite your followers. Even if they can't catch it live, they'll be able to check your page for the recording when they know the topic is one they want to see.
4. Set the stage. Keep your background uncluttered and clean. If you're recording from your shop or office, don't plan your Facebook Live event when there's commotion or too much foot traffic. Consider after-hours livestreams (you may be even more likely to catch your audience with free time after the business day has ended). If the ambient lighting isn't serving you, make the small investment in a ring light or other compact light source.
Try a test run using the "Publish as a test broadcast" option to check that your lighting, framing and audio are good before you broadcast to the world. Only your business page's admins and editors will be able to see the post, and you can make any necessary adjustments.
5. Get help if you need it. It's not that easy to be perfect, so don't try to do it all. Ask an employee, colleague or loved one to operate the camera for you or to monitor the questions and comments that are coming in live. If you don't have an extra set of hands, you can also purchase a simple phone mount or tripod to set up the shot and keep the phone or webcam/laptop at the perfect height.
How's Facebook Live support?
Most of your questions can be answered in the About Live Broadcasting area of the Business Help Center within Facebook for Business. There, you can find best practices, troubleshooting suggestions and detailed how-to instructions.
Product features may have changed and are subject to change.