Retail
Tech To Balance Your New E-Commerce Store with Your Brick and Mortar Business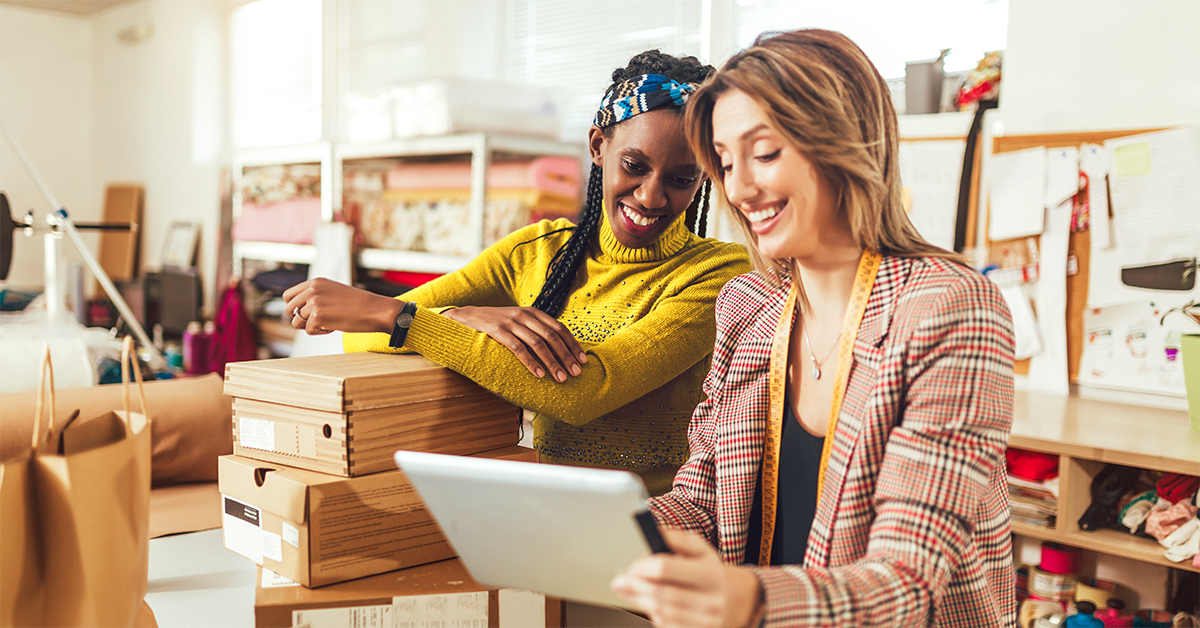 So you've made the switch to e-commerce, but you still want to interface with your customers and provide excellent service and customer care. There's tech available to help you provide your customers a similar level of experience and care that you provide at your brick and mortar establishment.
From data analysis that can help you know what your customers are doing at every point of sale on your website to retail management software to make sure you're offering the right products at the right time, you can create the experience you want.
Take a look at these 5 rules that business software can help you follow:
1. Be sure to create an e-commerce experience that mirrors your shop
Browsing online just isn't the same as it is in your store. Take a look at your e-commerce website and evaluate the experience you're offering to your customers. Is it strictly about point-and-click shopping? Make it more personal with some educational resources like a blog or short videos, so your customers can feel like they're making the best decisions when perusing your inventory. You can ramp up the information factor by providing detailed product descriptions and linking out to experts like manufacturers or designers. Think about the questions customers would ask you in-store, and try to provide content that gives them the answers.
Consider adding help desk software to take care of customer questions and issues as they arise. Most customer relationship management (CRM) software suites will have some kind of help desk software built in, usually in the form of a chatbot that you can install on your website that will relay customer questions to your email address.
You can try free CRM software tools like HubSpot, which provides detailed reports on your site's sales activity and also offers email tracking and notifications, prospect tracking and live chat. It's a good option for small business owners who are looking to dip their toes into CRM solutions without breaking the bank. If you're interested in a more robust offering that will allow you to best serve your customers, take a look at paid software like Salesforce, which combines tools to help you close deals; provide quality customer service via email, social media or text; run marketing campaigns and other small business essentials.
CRM software can be worth your investment. Salesforce reports that companies that added a CRM system have increased online sales by as much as 29%.
2. Make sure your product choices online are as reliable as in your store
You'll need to make sure you have the right inventory at the right time for your customers, and this is where retail management software comes in. A service like NetSuite is a cloud-based platform that includes inventory, production, returns, supplier and warehouse management tools, along with billing and invoicing. It's a great option for small businesses that need to keep track of their inventory. NetSuite also provides real-time analytics of customer behaviors on your site, so you can find out more about your clients and make more sales in the future.
3. Keep the conversation going with your e-commerce customers
The best way to find out what your customers want is to ask them. The easiest way to do this is with customer experience software like SurveyMonkey, which can help you find out what actions you need to take to make your customers happy and to adapt to changing markets. SurveyMonkey can also integrate with several other popular business apps to gather feedback from your customers and employees with ease.
If you're not interested in investing in a full suite of CRM tools right now, but want to be able to quickly answer customer questions, you may want to consider a service like Freshdesk, which is a help desk service for small to midsize businesses. For a reasonable monthly fee this service gives you a way to help customers through the different ways they could reach out with questions: their emails, their phone calls, through a chatbot on your site or your Facebook or Twitter posts.
You can also try a service like Podium, which allows you and your customers to communicate via text, so you can drive people to your website faster, get reviews on Google and Facebook and collect payments with ease. An exceptional function is the Webchat, which opens a chatbox for your customer and a text message for you, so you can immediately reply to your customer and give them great customer service on the go.
4. Keep your online customers coming back
You've learned how to keep people happy, now you need to keep them coming back for more products and services. Reward your customers for returning to your site by engaging with them via a loyalty program. The best way to do this is with software like Kangaroo, a loyalty, referral and marketing program. The software includes loyalty program management and lets you send relevant offers to customers using its Geo-Location feature and create a loyalty program with your own branded digital gift cards.
5. Make customers feel comfortable with your e-commerce security
Your customers feel comfortable making payments in your store, so they should be online, too. Customers are often skeptical about online security, so help them feel confident. Shopify is a great option for small businesses, as it has the tools you need to market to customers as well as the ability to sell everywhere, from anywhere. The Shopify POS app allows you to serve customers fast and securely in-store and online, while also analyzing your traffic and offering built-in rewards programs.
Finally, having fast and secure internet service at both your brick and mortar store and running your website will help you best serve your customer base. Make sure your internet provider can service both of your "store fronts" so there are no interruptions, which makes for satisfied customers and great business.
Product features may have changed and are subject to change.