Contractors
Why You Should Add an Interactive Calculator or Quiz to Your E-Commerce Website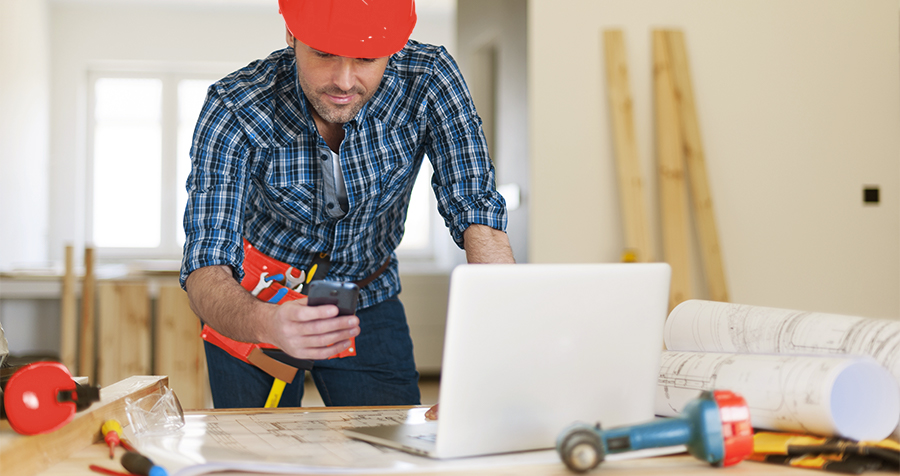 As a contractor, you're always looking for new business. And when you get new leads, it's always helpful to understand more about the projects before you pursue them. The more you know, the better you can tell if yours is the right company for the job. Enter quizzes and calculators.
If quizzes and calculators sound too much like school, don't worry! You won't be the one taking them. Interactive quizzes and calculators are tools you can add to your website to help attract new leads and convert them into customers. They're a lightweight way to create a high-impact experience on your website that can drive new business. Let's dive in.
What are quizzes and calculators?
An interactive calculator is a tool you add to your website so visitors can answer a specific question, like "How much will it cost to add a slate pathway to my garden?" or "How much drywall do I need for my remodel?" The calculator should have a tie-in, even if loose, to your business, but the primary goal is to put something on your website that people want to interact with because it solves a problem.
A quiz, by contrast, produces answers that are useful to you. Think more "Buzzfeed"-style quiz or personality test, except applied to your business, like "What countertop material is right for me?" or "What home upgrade should I do this summer?" You construct a series of questions that allow you to learn more about the quiz taker (helpful for you), and then provide them with a suggestion that answers the quiz's central question (helpful for them)—and then collect their contact information (super helpful for you).
That's right—part of these marketing tools for small businesses is asking at the end for the visitor's email address. Quizzes and calculators really are, at the end of the day, dressed-up forms. And there's no shortage of information on the web about what forms are and why they're important. But the gist is that forms help you collect information about leads, including contact information. You can then use that information to do all sorts of things: build an email list for people who aren't quite ready to invest in your services yet, filter out people who aren't the right fit for your business and prioritize bigger projects with higher return on investment.
How effective are quizzes and calculators?
These are lead generation tools. And they're good ones. According to Outgrow, interactive calculators like these get four times as many shares as non-interactive content. Capterra says interactive quizzes can be twice as effective as static content. They're great tools because they're engaging and helpful, and they offer potential clients a glimpse of your expertise while feeling personal—because they're entering the information themselves.
For example, Porch Enclosure Systems, a business that builds custom vinyl curtaining for outdoor spaces like patios and decks, has a "Get Quote" experience powered by Typeform. It's not a calculator exactly, but it gets the job done: It collects prospect details while providing them price transparency about how much it'll cost to to enclose their porch. Small business web consultant Gill Andrews knows a quiz might not take your business viral (though here's five that did), but that doesn't mean it won't still be useful. And she rightly notes that it doesn't have to take you much time—you can turn your existing paper intake form, an old blog post or anything else you might have worked on into a calculator or quiz. This is an important thing to remember: It's okay to reuse or reformat online content for your business.
So, how do you make an interactive calculator or quiz?
This doesn't have to be intimidating. There are lots of businesses that specialize in these tools. Here are some examples of top platforms for building both types of interactive:
In deciding what kind of quiz or calculator to put together, think about common questions your clients are asking or what content you've already created. A post called "How to choose the right tile for your new bathroom" can provide great fodder for a personality quiz. And "Estimating board and batten costs" could be the basis for a calculator, because if those types of estimate requests are common, a calculator makes a ton of sense to explain pricing to prospects.
Once you've chosen a topic, these platforms offer drag-and-drop experiences for building quizzes and online calculators. And you don't have to start from scratch—the ones special built for this purpose offer templates as a starting point. Choose the template that's closest to your needs and tweak from there. (HubSpot Forms will require custom work to get to a personality quiz, but it's included here because you might already be using that tool.)
When you've put the finishing touches on your interactive, you have to add it to your site. This might sound complicated, but the platforms offer copy-and-paste functionality similar to adding a YouTube video to your site. If you're a WordPress user, you might also have access to e-commerce plugins that integrate these tools directly into your content management system (CMS.
In summary, here's how to add your interactive:
Choose one of the platforms above (or find another one)
Choose your topic and make the quiz or calculator
Make a web page specifically for the interactive
Copy the embed code from your quiz or calculator builder
Paste that code into your web page
You've added the quiz or calculator to your website. Now it's time to promote it.
A new interactive element is cause for celebration! Let your email list know there's a new personality test they can take on your website, or an estimate calculator for the big project they've been mulling over. This is a good chance to re-engage with past customers and potential ones who have been holding out, and it can encourage word of mouth as well. You can also go back and add links to the new interactive element to old blog posts, either in the body or wherever you typically include calls to action.
Once a visitor has found you from search (check out SEO tips for getting a high rank on Google), an interactive element is a great way to turn them into a lead and, eventually, a customer. The apps mentioned above integrate with systems you're already using, so you can have new submissions automatically flow into your marketing or customer relationship management (CRM) system. And if your provider doesn't integrate directly with systems you're already using, consider Zapier, a service built specifically for letting you connect different apps together with no code.
With so many options out there, ranging from free to paid and simple to complex, there's every reason to give quizzes and calculators a try!
Product features may have changed and are subject to change.