Retail
5 Ways Retailers Can Use QR Codes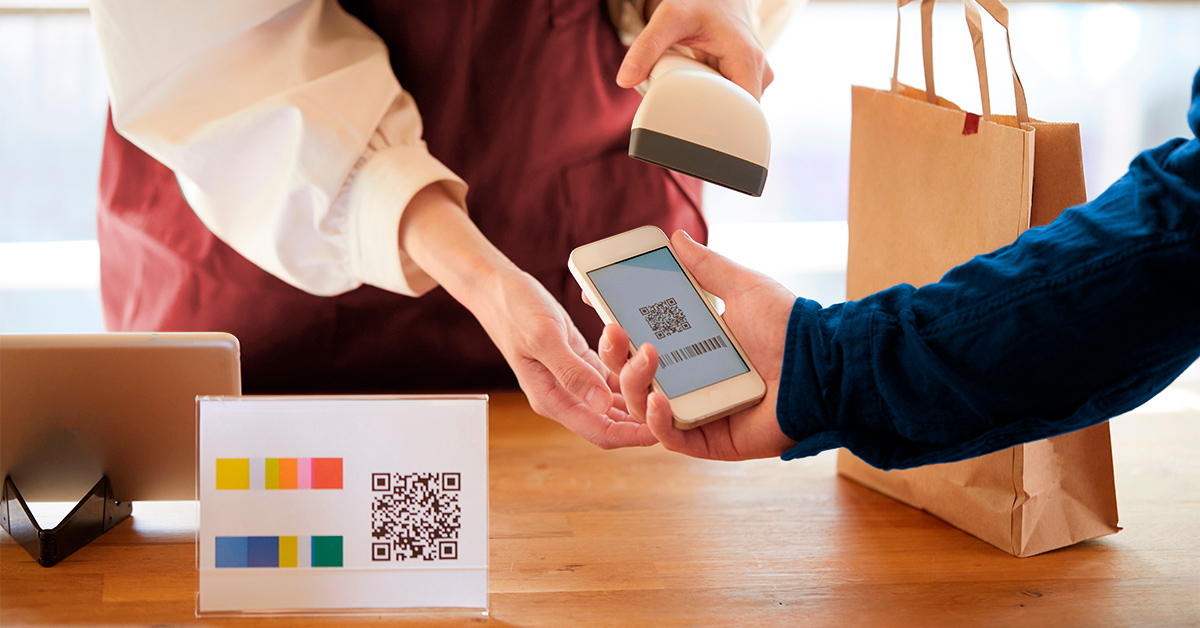 The transition to online shopping has motivated many retailers to look for creative ways to generate sales, connect with shoppers and distinguish their stores. If you're looking for a way to add a tech-y online dimension to your in-store shopping experience, QR codes are an effective and flexible way to bring your marketing strategies to life.
Even for small shops, creating and sharing QR codes is relatively easy and inexpensive.
What is a QR code?
QR codes are scannable digital information that can be accessed by smartphones and connect users to a specific destination on the internet. Customers may link directly to a full website, an online page with product information or store details, or a partner site you designate. They're a convenient way to share information with your tech-savvy customers and win over visitors to your store who are "showrooming"—using research at brick-and-mortar stores like yours to plan a future online purchase. Because any smartphone user can scan a QR code, you can use these codes to encourage specific behaviors while visitors are in your store.
Invented all the way back in 1994 for use in automotive manufacturing, QR codes took a long and gradual path to popularity. Because you can link QR codes to any website, you can use them for a variety of different purposes and marketing goals.
How to create QR codes on product packaging
Using a free or paid QR code generator, you can create QR codes that link to a specific website of your choice. From there, print out the QR code and place it on your packaging. You can place a QR code on stickers that can go on tags or right on the packaging.
Whenever a customer wants to use a QR code, all they have to do is point their Android or iOS/iPhone cameras to scan QR codes directly. Though use is widespread these days, you may want to place instructions such as "scan QR codes with your smartphone" next to any signage in your store.
5 retail marketing strategies using QR codes
There's a wide range of different ways you can use QR codes, and they're quite versatile:
1. Create in-store promotions and shopping experiences
Think about the types of content you'd want to deliver alongside your products—perhaps information about a sale, a link to a coupon or even a playlist that fits a specific theme or goes with your products. Customers can choose whether or not to engage with your content by scanning the QR code, so ideally you'll want to make a compelling offer and simplify the experience as much as possible.
You can integrate QR codes into your displays by including codes on shelves next to products, on labels or on flyers you distribute.
Here are a few ideas:
Smartphone apps – Use a QR code to link to a custom app you've created for your brand.
Customization – Encourage customers to customize their own in-store experiences by scanning certain codes based on interest. For instance, a QR code for parents to scan leading to a fun kids' activity that goes with the toys you're selling.
Promotions – Offer an in-store–only promo through a QR code you hand out as shoppers enter the store.
Rewards club – Encourage customer loyalty with a rewards membership.
Social media linking – Connect shoppers with your social media by linking to your store's Facebook, Twitter, Pinterest or TikTok profiles.
Alternative checkout/payment options – Provide opportunities to quickly check out or pay without cash or a card. Accept PayPal, Venmo or another payment system by linking to it.
Based on customer feedback, adjust the offers and promotions. Consider asking your regular customers what they'd want to see as well.
2. Help shoppers buy with links to online listings
Showrooming is the practice of visiting a brick-and-mortar store for product research before buying online. Don't lose business to that online megaretailer—give your customers a reason to buy now.
Link directly to your own online listing, so customers can view product details, choose different sizes and colors or access special in-store pricing even when ordering for shipping to their home.
3. Direct customers to connect with your team
You can also have QR codes lead directly to email or text message templates. For a product that customers may have questions about, this can be a valuable opportunity to engage with them directly. Retailers offering homebrew supplies, for example, could post a QR code offering buyers the chance to contact your team once they get home if they have questions about getting started or finding more supplies.
This strategy helps retailers meet customers where they're at and make a sale, even if their shopper is hesitant to try a product or start something new.
4. Make ads more interactive
On both your print and online ads, you can place QR codes that allow customers to respond immediately. This helps your business reach buyers while they're still thinking about what you sell. It's also a way to bring your customers' attention to their smartphones—encouraging them to download your app or start shopping your website.
5. Share what you know with customers
Using a QR code, you can link to a companion site that goes with a product category or a specific topic. This works particularly well in turning unfamiliar activities into adventurous experiences available through purchases at your store.
A retailer selling henna, for instance, can link to a website with video and how-to guides about mixing henna powder and using it to create tattoos. Tips from experienced henna artists can provide design inspiration, too. After visiting this website while in the store, shoppers may feel more confident about purchasing a DIY henna powder kit and using it themselves.