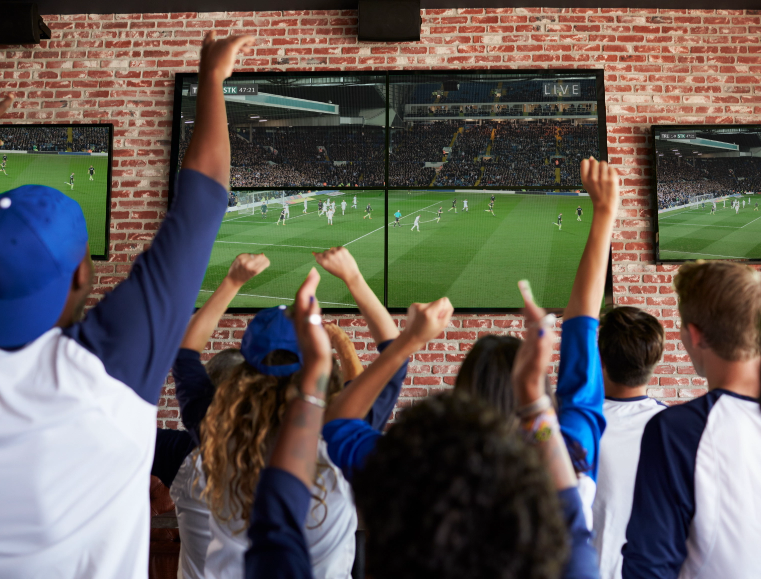 Infinite happy customers.
One convenient bill.
Make the wait great
with Frontier and DISH TV
One choice:
dozens of popular channels
One bill:
bundle with internet & voice
One price:
2-year price guarantee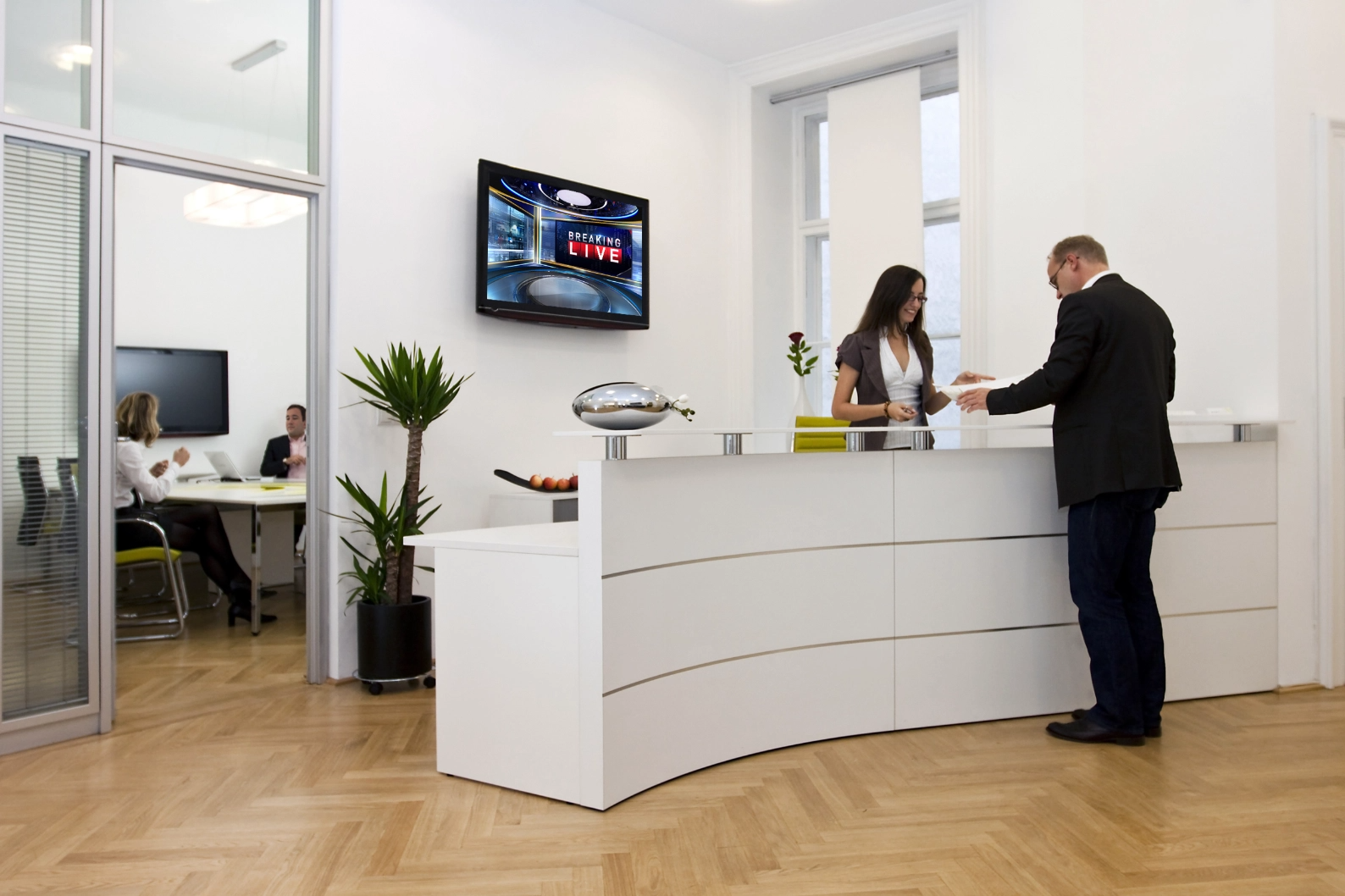 Don't overspend
Only pay for what you need
Why pay for hundreds of channels when your customers only watch the same few? Dish
®
* package includes only the most popular networks, like:
Sports:ESPN, ESPN2 & Fox Sports 1
Entertainment: History & Food Network
News: CNN & Headline News
Kids: Cartoon Network

For Business
$5999
Requires credit qualification, 24-month commitment, early termination fee and eAutoPay. Offer ends 7/13/22. 
For Bars & Restaurants
$6999
Requires credit qualification, 24-month commitment, early termination fee and eAutoPay. Offer ends 7/13/22. 
Entertain happier customers
When your customers are relaxed, you can focus on providing the best service. So keep customers content with their favorite channels. DISH TV makes it easy with the most popular networks in one simple plan. Call today and provide better customer experiences tomorrow.
Grow further, faster, over Frontier's fiber network
Frontier Fiber Internet
Instant access to cloud-based apps. Fast e-commerce sales. Clear audio and smooth video calls. Do better business with up to 50x faster upload speeds than cable.
SmartVoice Phone Service
No more missed, dropped or garbled calls. Respond to every opportunity with voice service and collaboration apps that travel with you.
Security & Cloud Services
Sleep easy knowing multi-device security protects you from cyber threats and breaches. Access files and work from anywhere with 200GB of cloud storage.
Let's get to work on your business.
By clicking "submit," you consent for Frontier and partners to use automated technology, including pre-recorded messages, cell phones and texts, to contact you at the number provided. This includes if the number is currently on any Do Not Call Lists. This consent is not required to make a purchase.
TV service terms and conditions: Offer for new and qualifying former customers only.
Qualification: Advertised price requires credit qualification and 24-month commitment. Upfront activation and/or receiver upgrade fees may apply based on credit qualification. Offer ends 4/13/22.

2-Year Commitment: Early termination fee of $20/mo. remaining applies if you cancel early. Included in 2-year price guarantee at $69.99 advertised price: America's Top 120 programming package, local channels, HD service fees, and Hopper Duo Smart DVR for 1 TV. Included in 2-year price guarantee for additional cost: Programming package upgrades ($84.99 for AT120+, $94.99 for AT200, $104.99 for AT250), monthly fees for upgraded or additional receivers ($5-$7 per additional TV, receivers with additional functionality may be $10-$15). NOT included in 2-year price guarantee or advertised price (and subject to change): Taxes & surcharges, add-on programming (including premium channels), DISH Protect, and transactional fees. Premium Channels: 3 Mos. Free: After 3 mos., you will be billed $30/mo. for Showtime, Starz, and DISH Movie Pack unless you call or go online to cancel. Remote: The DISH Voice Remote with Google Assistant requires internet-connected Hopper, Joey, or Wally device. Customer must press Voice Remote button to activate feature. Google Assistant Smart Home features require Google account and compatible devices. Google is a trademark of Google LLC. Other: All packages, programming, features, and functionality and all prices and fees not included in price lock are subject to change without notice. After 6 mos., if selected, you will be billed $9.99/mo. for DISH Protect Plus unless you call to cancel. After 2 years, then-current everyday prices for all services apply. Free standard professional installation for TV only. Internet and phone services are provided by partners, require credit qualification, and will be billed separately. Internet prices shown do not include guarantees. Equipment lease charges may apply. Leased equipment must be returned upon cancellation or unreturned equipment fees apply. 99% nationwide signal reliability based on a nationwide survey of DISH customers. Watching live and recorded TV on DISH Anywhere requires internet-connected Hopper and compatible mobile device. Miscellaneous: Taxes or surcharges may apply. All packages and offer subject to change without notice. Additional restrictions may apply. ©2021 DISH Network LLC. All rights reserved.
Frontier Communications is an authorized retailer of DISH Network L.L.C. DISH, DISH Network and DISH Network logos are trademarks, registered trademarks and/or service marks of DISH Network L.L.C. and/or its affiliate(s). The DISH Network trademarks, registered trademarks and/or service marks are used under license of DISH Network L.L.C. and/or its affiliate(s).
Visa Reward Card Offers: Not redeemable for cash. Sign up before February 28, 2022 and receive a $100 Visa gift card for 300/300 Mbps, $200 Visa gift card for 700/700 Mbps, or $300 for Gig Service. Must maintain service for 90 days after install and pay first bill in full. Must redeem within 75 days of notification. Card delivered 30 days after redemption and expires 6 months after issuance. The Frontier Visa Reward Card is issued by The Bancorp Bank pursuant to a license from Visa U.S.A. Inc. and can be used everywhere Visa debit cards are accepted. No cash access. The Bancorp Bank; Member FDIC. The Bancorp Bank does not endorse or sponsor and is not affiliated in any way with any product or service offered by Frontier Communications.